The Dubai Airshow has quickly grown to be an event of magnificent proportions. With attendance going into tens of thousands and deals being made worth billions of dollars, the airshow has established itself as a benchmark of international aviation cooperation. Pakistan has been a regular participant of the event from the start. From JF-17 to Super Mushshak, PAF has won over countless hearts and secured numerous lucrative deals over the years. This year was no exception.
From pretty spectacular aerial displays to aircraft manufacturers picking up some big orders, the Dubai Air Show 2021 which was held from 14-18 Nov 2021 at Al-Makhtoom International airport, was also dominated by unmanned systems, particularly combat drones.
Dubai Air show is one of the largest and most successful events in the world, connecting aerospace professionals across all areas of the industry to facilitate successful global trade. With 161 aircraft on display, 314 civil and military delegations, 40 percent decision makers in attendance, over US $54.5 billion worth of orders booked, some 1, 200 exhibitors, 16 country pavilions, nearly 85, 000 trade visitors and 1,420 media attendees to cover it all, the show made headlines around the globe.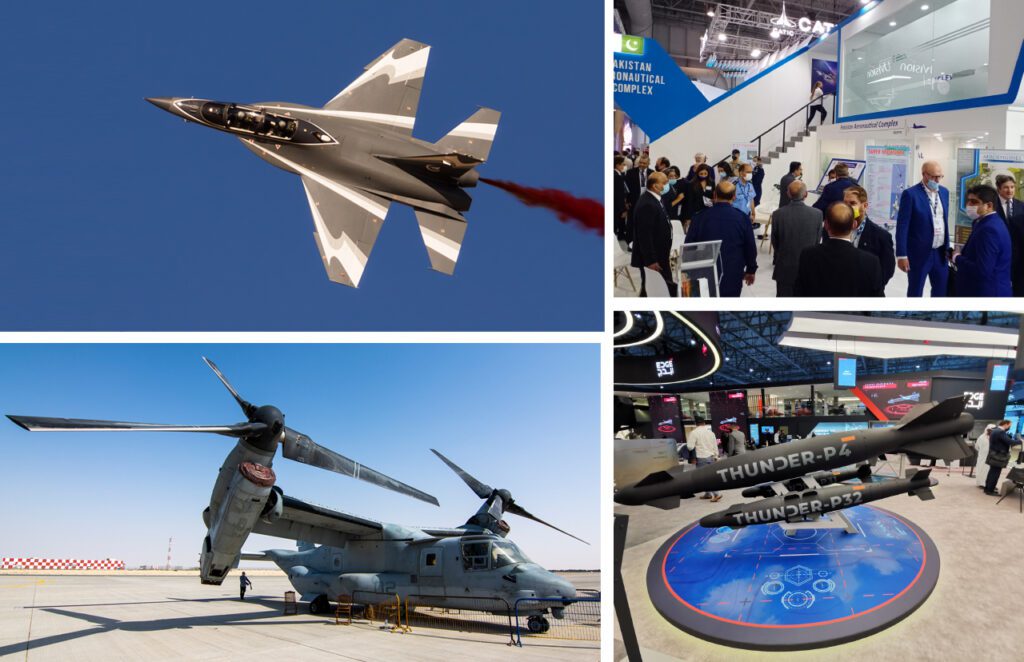 After two years of being apart, countries showcased new fancier liveries of their airliners, Boeing showed off its new 777X, which made its first international flight to the Middle East to join the air show's flying programme. Russians pushed the cutting-edge, long-awaited stealth fighter Su-57 Checkmate for the first time at any public display. Freighters also had a nice weekend at the Dubai Air show.
While the show was dedicated to both commercial and military aircraft, this year's edition seemed to lean heavily toward the former. Still, Defence News noticed a significant number of light-attack aircraft at the show. Nearly 150 countries were represented. Among the biggest participants were China, which made a solid showing. It brought along the L-15 supersonic trainer and its available weaponry. The state-owned defence firm China National Aero-Technology Import and Export Corporation — better known as CATIC — displayed a range of anti-aircraft missiles, munitions and fighter jets.
More than 100 American companies had exhibits at the air show, including defence giants Lockheed Martin and Raytheon Technologies. At the 2019 Dubai Airshow, the USA had an F-22 Raptor on static display. This year, it brought a prototype of the F-35 Joint Strike Fighter.
While, Brazil's President Jair Bolsonaro roamed the tarmac outside the booth of Brazilian aerospace company Embraer, inspecting the interior of a hulking C-390 Millennium transport aircraft, smiling and waving to crowds of reporters, the French Armed Forces Minister, Florence Parly, surveyed the range of helicopters and maritime patrol aircraft at the Airbus pavilion, surrounded by French airmen in uniform.
The response was overwhelming at the Pakistan Air Force display, especially of the crowd that had come to see the Super Mushshak – a matter of pride for the country and expats who visited the show. Equally amazing response was from Europeans, who were made up of questions. This year, the indigenously developed Made in Pakistan, Super Mushshak, was on the map again. Impressed by the seven minutes aerobatics performed by Wg Cdr Majid Ali, and hard-core military standard upgraded glass cockpit, long queues formed to see what the world now recognizes as a quality product, the Super Mushshak.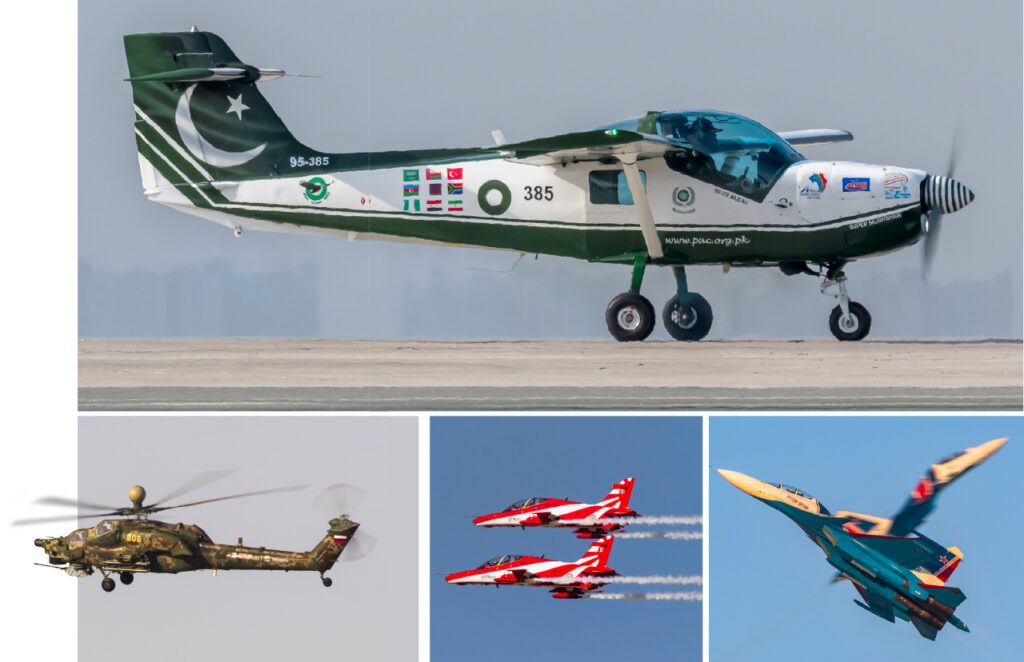 "Prof Temel Kotil, who is head of Turkish Aerospace Industry (TAI), has requested the Pakistan Air Force to enhance production capacity, to receive new orders especially from European countries," said Air Cdre Faisal Ayaz of PAC Kamra in an optimistic tone. While Pakistan endeavours to attract European markets to sell its Made in Pakistan trainer aircraft, the PAF has already sold over 50 Super Mushshaks to the Turkish Air Force to train its pilots. In July, 2022, the first batch of the Super Mushshaks will take flight in Turkish airspace.
"The world is actually amazed that the Turkish Air Force will be using PAF's Super Mushshak to train their fighter pilots as a standard. And that is why a delegation from Finland, was also extremely interested among others," said Air Cdre Faisal Ayaz. According to the official, the PAF has already sold 134 Super Mushshak planes mostly to Middle Eastern countries and some in Africa.
Visitors who thronged PAF stall to view products were pleasantly surprised with the advancements in avionics and machining capabilities, and products like the canopy manufacturing and ground support equipment at the PAF display booth. "Visitors were inquisitive about the cost of the aircraft, it's air time? How high could it fly? Can surveillance cameras and weapons be loaded on it?" were some of the basic and common questions asked by these enthusiasts, the official elaborated.
PAC Kamra stall had also put on display the capabilities of various PAC factories, some of the highlights are as follows:
Mirage Rebuild Factory
MRF displayed its overhauling capability of Mirage III & V aircraft and ATAR 09C engines. Moreover, hydraulic, fuel and pneumatic pipe manufacturing facility, painting of aircraft and components, blending of engine blades, repair / overhaul of jet fuel starter and other Mirage and ATAR engine parts were also displayed.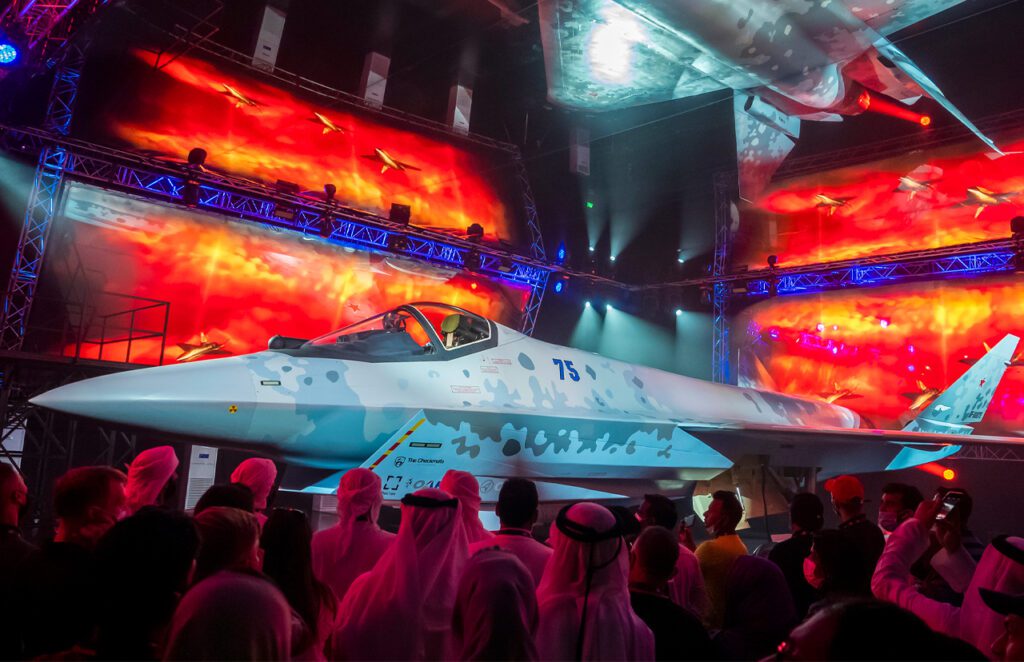 Avionics Production Factory     
APF displayed the design, development and production capabilities of avionics of JF-17 thunder aircraft like avionics activation panel, upfront control panel, smart multifunctional colour display etc. Moreover, MRO capability of TPS-77 Radar was also displayed.
Aircraft Maintenance Factory
The stall displayed JF-17 Thunder and SMK aircraft as main products of PAC. The visitor showed interest in both products, general questions were related to technical details, capabilities and commercial cost of the products, the visitors were also interested in the capabilities of JF-17. The static display of SMK attracted a lot of visitors to observe the new glass cockpit and aircraft in general.
Aircraft Rebuild Factory
ARF displayed its manufacturing capabilities of canopy, aircraft harnesses and other structural parts for numerous aircraft systems. This also included the parts manufactured for Boeing aircraft.
Another highlight of the show was the visits by various high-ranking officials and dignitaries to the PAC stall. Some of the important personalities who visited included Air Chief Marshal Zaheer Ahmed Baber Sidhu, Chief of the Air Staff PAF, Chairman Joint Chief of Staff Committee, Ex-Army Chief General (R) Raheel Shareef, Chairman PIA etc. Air Marshal Muhammad Mughees Afzal, Chairman PAC Kamra welcomed the distinguished guests at the Pakistan pavilion and briefed the them about the ongoing projects and future plans of the various factories working under his leadership.
The Dubai Air Show was a very interesting event in several ways where there were winners and losers also. Obvious winner was the A320 family that absolutely crushed, racking up more than 300 plus orders besides Boeing's 737 Max that also picked up big orders. There were losers too. While Emirates showed signs of reducing its fleet of Boeing 777s and not a single order was placed for 777x and the sales of 797 also suffered.
We would however, like to mention one more winner – PAF's Super Mushshak. Interested buyers sought PAF for all the certifications. And although the PAF has built the Super Mushshak for military purposes only, PAC Kamra is now working on fulfilling the necessary qualifications to sell the aircraft to the private sector in future. SAAB, which sells Mushshak engines, landing gear and the propellor, has also already agreed to provide the designed data of the trainer aircraft to PAC Kamra.