Liveries are the special paint schemes used in military and civil aviation on aircraft in order to help identify them and also to make them look attractive and stand out among fleets. The purpose of liveries can be historical as well as contemporary. They are used to celebrate national events, traditions, anniversaries, achievements of respective aircraft and squadrons, war victories, international exercises, airshows and formation of aerobatic teams. A livery is a set of eye-catching insignia which may contain colours, graphics, art, typography or a combination of these. Air forces around the globe regularly paint their aircraft in colourful liveries to catch the spotlight in the world of aviation. Various artistic paint schemes of military aircraft are showcased at the Royal International Air Tattoo (RIAT) at RAF Fairford every year, the largest international airshow. Specially painted aircraft participate in competitions and the most appealing aircraft gets the best livery award. There are countless fighter aircraft with gorgeous looking paint schemes all over the world. However, General Dynamics' aerodynamic wonder: the 'Fighting Falcon' is worth a feature in Second to None.
F-16 Fighting Falcon, fondly called 'Viper' by its flyers, is a compact, single engine, all weather multi-role fighter aircraft designed and produced in the 1970s by General Dynamics, which was later acquired by Lockheed Martin in the early 1990s. It was the winner of the Light Weight Fighter (LWF) and Air Combat Fighter (ACF) competitions, which led to its production and induction into United States Air Force. The F-16 is a highly agile aircraft with combat proven capabilities in air-to-air and air-to-ground roles. It was the first fighter purpose-built to withstand high G-loads (9G) and fly at speeds reaching Mach 2. It was also the first aircraft based on the fly-by-wire control system. F-16 has been declared the most successful combat-proven 4th generation fighter by Lockheed Martin. Designed and developed in the 70s, the improved variants of F-16 are still being produced for export. A total of 4,588 F-16s have been produced till date and around 3000 are in active service in 25 countries. Apart from its high-performance design, the aesthetically pleasing airframe has won the hearts of both the pilots and aviation enthusiasts over the years. It would not be unjust to call F-16 the most beautiful fighter aircraft ever built in the history of aviation, which has inspired many generations of aviation enthusiasts.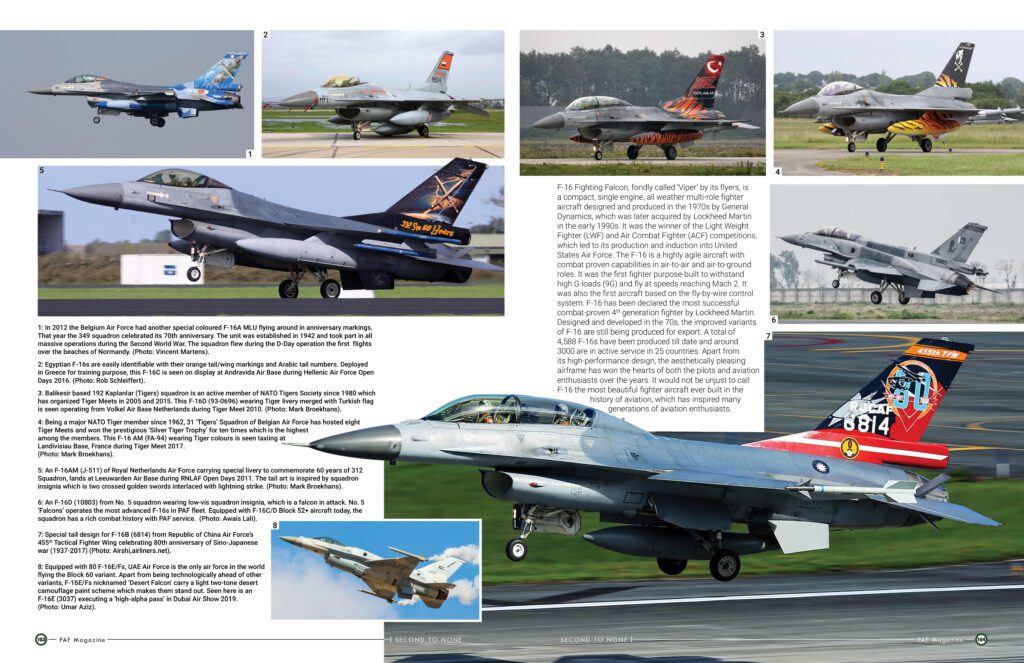 F-16 is the most widely produced modern day fighter after Mig-21 and F-4. Being in service with many air forces around the world, F-16 has made public appearance with numerous eye-catching liveries till date. The most prominent ones include those of solo and formation aerobatic teams like Turkish Air Force's Solo Turk, United States Air Force's Thunderbirds and Viper Demo Team, Belgian Air Force's Dark Falcon, Royal Netherlands Air Force's Orange Lion, Republic of Singapore Air Force's Black Knights and Hellenic Air Force's Zeus. Apart from demo teams, F-16s have been painted with special liveries including full fuselage, half fuselage and tail arts for occasions such as international exercises and air shows. The Royal International Air Tattoo (RIAT) airshow and NATO Tiger Meet exercises are the most noteworthy events in which air forces exhibit the creative liveries apart from capabilities of weapons systems as well as competence and professionalism of their ground and air crew.
NATO Tiger Meet is an annual military exercise which allows NATO's 'Tiger Squadrons' to converge at a hosting base to share ideas and experiences of combat flying as well as keeping friendly relations among the nations. Squadrons from NATO Air forces with Tiger as their squadron crest are members of NATO Tigers Association which is responsible to keep solidarity between the air forces. The Tiger Meet always brings forth the most alluring liveries. Among the participating aircraft, F-16s painted in bright tiger stripes and fascinating tail arts are always the show stealers.