The story of Bristol Freighter service in RPAF is nothing short of spectacular. For decades, this 'Work Horse' remained the backbone of all RPAF air transport operations, gradually fading away in obscurity, paving the way for its more versatile predecessor, the 'C-130 Hercules'.

Among the aircraft operated by the Royal Pakistan Air Force, the story of Bristol Freighter is probably the most exciting one. The aircraft was thought of as a development of Bristol Bombay transport aircraft, albeit with a fuselage large enough to accommodate large sized cargo, and capable of operations from improvised airstrips. The study that became Bristol Type 170 attracted interest of the Air Ministry of UK, which required some changes but otherwise found the aircraft most promising. RAF wanted to use it in the World War II against Japan. Unfortunately, the aircraft arrived too late for the war, being first flown in December 1945. This ultimately sealed the fate of the aircraft. Post-war cuts in the RAF structure rendered the aircraft unnecessary. Realising that, Bristol immediately began studies on modifying the aircraft for civilian operators.
The aircraft was ultimately manufactured in a total of 214 pieces. A marginal number to WWII standards, it was still a big success, especially in the commercial market, where previously demobbed Dakotas dominated. The last Freighter was withdrawn from use in 2004.
At the time of its establishment, Royal Pakistan Air Force had almost no transport aircraft. One or two venerable Dakotas, the only transport type used were facing numerous maintenance issues. They belonged to a stock of ex-RAF aircraft which were handed over to RIAF to be shared between India and Pakistan. Those Dakotas were already worn and most of them had to be returned to the air. Worse, a number of them belonged to C-47A/Dakota III variant, which performed poorly in higher altitudes and was not suitable to fly in mountainous areas of north Pakistan. To make things even more complicated, the only workshop specialised in overhaul of Dakotas was Hindustan Aircraft Ltd in Bangalore. Nonetheless, there was little choice, and the available aircraft were gradually overhauled locally, with some more coming from India according to partition agreements or acquired from abroad.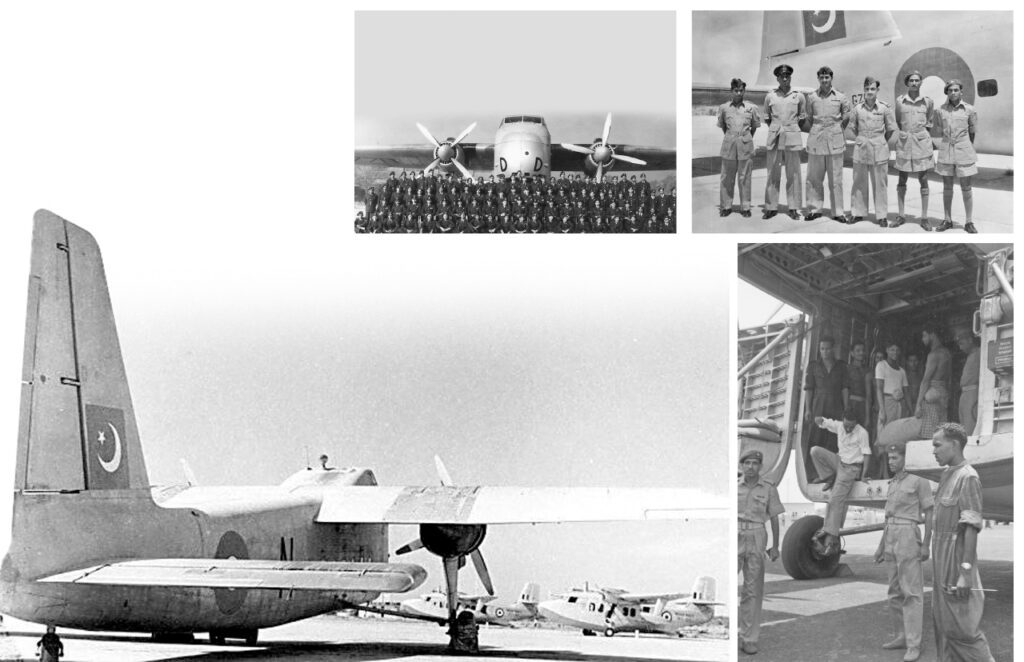 At the time of independence RPAF has only two transport units. No 6 Squadron, formerly No 6 RIAF Sqn, a dedicated transport unit inherited from the RIAF which was based at RPAF Peshawar, and Air Headquarter Communication Squadron established at RPAF Mauripur to perform VIP transport duties. Governor General's Communication Flight was also subordinated to the latter unit. Since their arrival, Dakotas provided critical transport service, especially in Kashmir war in 1948, which became the first conflict involving the two infant nations. Notorious technical problems with the worn-out Dakotas led to a decision to seek replacements. But it was easier said than done. The market offered little in ways of substitutes. There was just one aircraft that could have been considered an alternative, Fairchild C-82 Packet, but it was not available for Pakistan, USAF being the sole operator. Fairchild C-119 Flying Boxcar and French Nord Noratlas arrived too late. Thus, the only real alternative left for RPAF to replace the ageing Dakota was Bristol Freighter.
Dakota and Freighter aircraft had very similar performance. Maximum speed of Freighter was 225 mph (362 km/h, 196 kn) at 3,000 ft (910 m) vs 224 mph (360 km/h, 195 kn) at 10,000 ft (3,000 m) of Dakota. Time to altitude of 10,000 ft (3,000 m) was 10 minutes for Freighter while the Dakota took 9 minutes 30 seconds. Service ceiling of Freighter at 23,000 ft (7,000 m) was slightly worse than that of Dakota – 26,400 ft (8,000 m). Dakota definitely outclassed Freighter in range. Freighter could fly 820 mi (1,320 km, 710 nm) while Dakota doubled that figure – 1,600 mi (2,600 km, 1,400 nm), with ferry range as much as 3,600 mi (5,800 km, 3,100 nm).
A few factors gave Freighter a clear advantage. The payload difference between the two made a vital difference. Dakota could typically carry 5,000 pounds (2,300 kg). In extreme situations, this limit could be stretched to 6,000 pounds (2,700 kg) or even 7,000 pounds (3,200 kg). On the other hand, the Freighter could carry a maximum of 10,870 lbs (5,000 kg), which meant double the payload of the standard Dakota. It was also equipped with much larger cargo compartment. Another factor that gave Freighter an edge over Dakota was the size of the crew. Dakota required a crew of 4, while Freighter could be flown by a crew of 3 or even just a pilot and co-pilot. Given the chronic personnel shortages at the time of partition, this provided an undeniable advantage. There was another factor that came into play. The only workshop capable of repairing Dakotas, No 102 Maintenance Unit, RPAF Drigh Road was overloaded with work of fixing other aircraft. The newly established Forward Repair Unit, RPAF Chaklala was just starting operations, and it needed time to take over work. Shortage of technicians was also critical, thus any major overhauls would have to be handled abroad. This was not viable for economic and strategic reasons. The younger Freighters offered the luxury of not being in need of major overhaul for at least a few years. Another factor which supremely surpasses Dakota, was freighter's clamshell nose doors. These doors could open up sideways allowing large-sized cargo like 3-ton trucks, large military vehicles to be loaded/offloaded with ease and efficiency. This facility proved to be a huge benefit during 1948 Kashmir war.
All of these variables made Freighter the only suitable replacement of Dakotas. The aircraft was first shown in Pakistan in mid 1948. A Mk 21E C/N 12780 did a promotional tour around Asia. On 22 July 1948, it landed at Chaklala where a demonstration of loading and unloading was given to RPAF officials. The aircraft received provisional serial G775 and thus became the first ever aircraft to be flown on 29 July, the same year.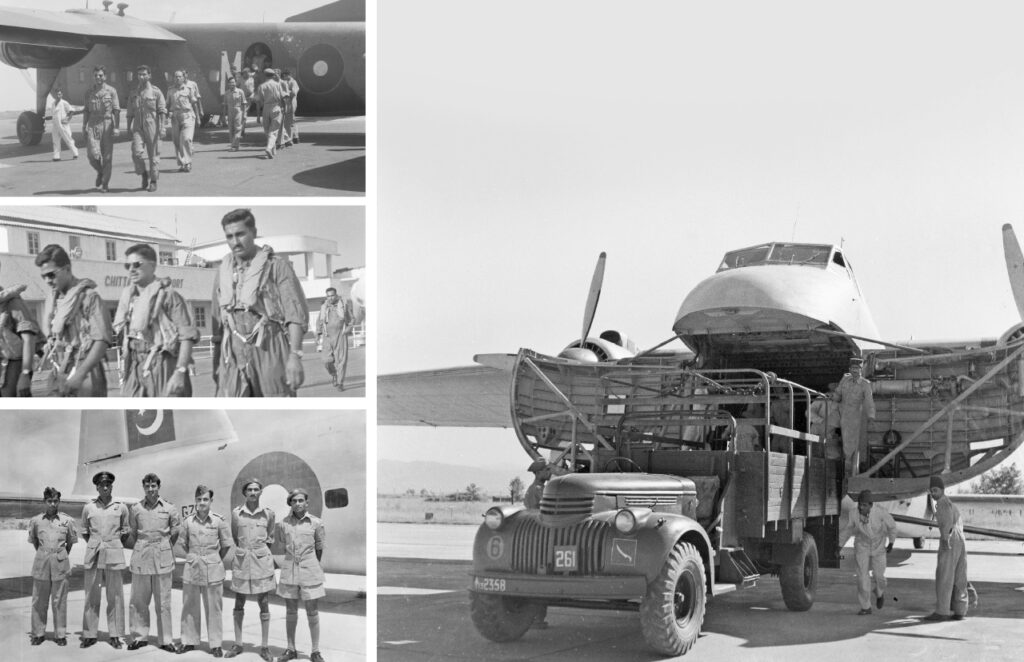 The impressions must have been positive as two aircraft were ordered and delivered in October 1948 for operational testing. One of them was Mk 21 transport with the serial G776 and the other Mk 21E convertible, capable of both transport and passenger duties – G775. The latter was the very aircraft demonstrated a few months' earlier. They were delivered in silver finish, just with RPAF insignia and black serial numbers on the tail and wing under-surfaces in typical RAF pattern.
Both aircraft were attached to operational units. G775 went to Comm Sqn while G776 flew missions to Kashmir with No 6 Sqn. Here the new type had a chance to shine truly. Carrying a Jeep in Dakota required a bit of effort to both load and unload the vehicle through the side cargo door. It was much easier in the Freighter, and more so, the latter was capable of carrying larger vehicles.
There was one instance that really left an expression. CWT Lorries were the go-to military troop transport at the time. Sturdy and dependable, it was a tough giant with an intimidating weight and size. Owing to this, the staff was left impressed when Freighter G776 was able to easily load up a 3-tonne CWT Lorry in its spacious cargo compartment and deliver it to Gilgit. This ease of transport in cargo this big in size would've been unthinkable in the Dakotas. The massive cargo compartment entrance also gave the Freighter a huge advantage in loading and unloading cargo, making it much faster and convenient. During one of the flights where the weather was exceptionally bad, the Freighter struck a tree with its wing. It was, fortunately, able to return to its base safely and was temporarily patched up. The aircraft was later flown to UK in 1948 for an overhaul. The pilot of the aircraft, Flg Off Syed Mansoor Ahmad Shah complained extensively about the servicing at Bristol, especially about its air conditioning systems, but was impressed by the reliability of the airframe and engines. In any way, despite the snags, during the course of operational evaluation of both aircraft it was found that the type fulfils demands of the RPAF. G776 returned to No 6 Sqn, where it was sought after by the pilots, but later in 1949 it joined G755 in the Comm Sqn. The eventual fate of G775 is unknown, but Freighter G776 crashed on 7 January 1955 at RPAF Lahore while on strength of No 6 Sqn.
Later on, a change of Commander-in-Chief coincided with a cease-fire in Kashmir. AVM R. L. R. Atcherley decided for one transport squadron, ie. No 6 Sqn with 8 Freighters under establishment plus 4 in immediate reserve. According to the plan, AHQ Communication Sqn and Governor General Communication Flt were to be merged into one unit, Communications Squadron with one Viking, one Wayfarer, two Freighters plus two Freighters in immediate reserve. The total demand called for 17 aircraft, with 100% reserve making the requirement of 34 aircraft. So, a further 32 aircraft, 30 new built Mk 21P and two second hand Mk 21 converted to Mk 21P standard were ordered. The first aircraft, G777 arrived in November 1949, and others followed until G787 was flown in February 1950.
A Scottish company, Air Service Training was contracted to train personnel for Freighter units. This training unit was established at Mauripur and started operations in 1950. Meanwhile, the aircraft immediately joined transport duties in West Pakistan, and between the West and East wings of the country. Freighters flew twice a week between Lahore, Chaklala, Peshawar, later also Kohat and Sargodha, and Drigh Road or alternately Mauripur, delivering aircraft engines, aircraft assemblies or spares, and supplies from and to stores or maintenance units. No 6 Sqn also flew mail runs to East Pakistan every Tuesday and Friday. Supply routes were established to Dacca with an extension to Chittagong. Freighters were also used to transport Shaheen Scouts for their annual camps. Another important aspect was dropping supplies to Army units in Kashmir and for those operations a detachment was maintained at RPAF Chaklala from April to October each year. Flood season had Freighters on the front lines of relief operations.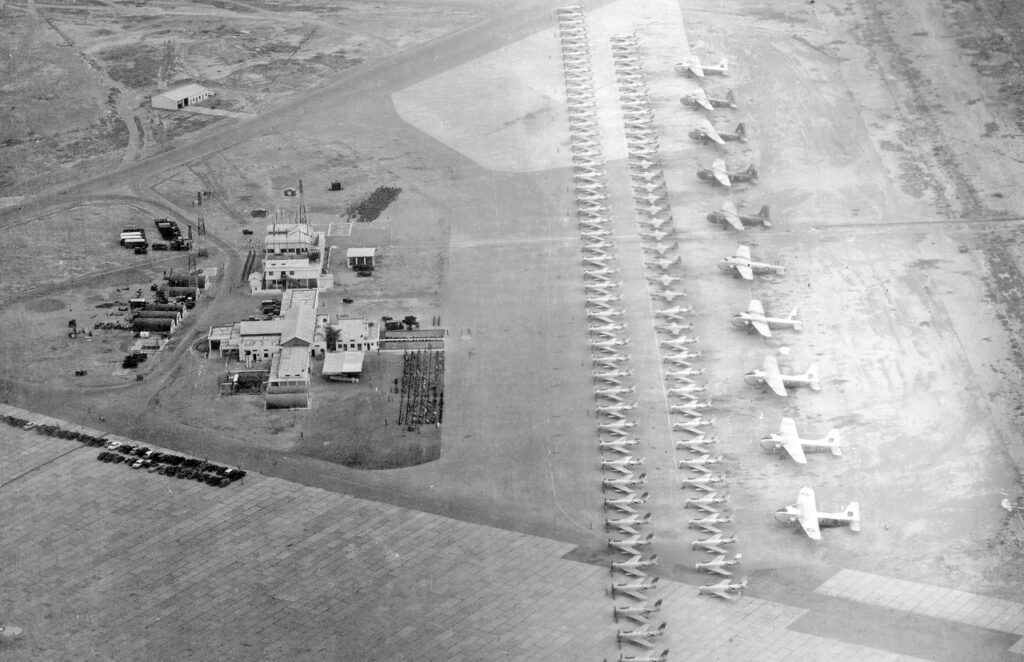 A fatal accident involving a Freighter occurred on 6 April 1950. It was a tragedy that claimed several precious lives. A Freighter belonging to No 6 Sqn flew from Gilgit with pilots Flg Off Ashfaq and Plt Off S U Khan on board. When it approached Sazin in the Indus valley, the plane crashed into a mountain due to severe weather. The pilots were martyred along with 14 other passengers.
Additionally, a number of aircraft were lost or damaged in non-fatal accidents, but there is no exact record of those incidents. Those aircraft were either repaired, or reduced to spares and replaced by new Freighters.
Deliveries continued with G-788 – G793 arriving in July 1950, G794 – G800 during June to September 1951, and G801 and G802 in February and March 1952 respectively.
In 1951-52, No 6 Sqn came up with an original and ingenious idea to train cadets from RPAF Risalpur. Titled 'The Flying Class', the cadets were flown from Lahore in a Freighter specially modified for this purpose. Instructors included navigation instructor Flg Off Abdul Majid and airborne map reading instructor Plt Off Sultan Muhammad, adepts at the task assigned to them. The cadets accumulated real-time practical navigation and map-reading skills aboard the Freighter.
Final aircraft G804-G806 were delivered in the period December 1952-January 1953, while the last three, G807-G809 were delivered in April-May 1953. An aircrew training unit was formed as Transport Conversion Flight of Conversion School at RPAF Mauripur. Wg Cdr Mohammad Kyber Khan was appointed as its first chief instructor who personally selected the remaining faculty members.
During 1952 floods, No 6 Sqn was employed in large-scale food supply drops, for which the squadron received an award, presented on 17 August 1952 by the Governor of the West Pakistan. Another large operation of No 6 Sqn was Snow Drop which began on 15 November 1953 and involved dropping supplies in Pakistan's Northern Areas from RPAF Chaklala. The operation concluded on 30 November with 363,000 kg of supplies being freighted by Freighters to Gilgit and Skardu.
The next aircraft ordered were 38 improved Mk 31Ms which received new range of serials between S4401 and S4438. They were delivered from December 1953 to June 1955, usually in batches of three or four aircraft. The last one, S4438 was handed over on 29 June 1955 in a ceremony attended by the Pakistan High Commission in London, His Excellency Mohammed Ikramullah. With this the number of Bristol Freighter in the inventory of RPAF inflated to 81.
It seems that some of those aircraft were delivered in a distinctive Bristol style pattern, with white upper fuselage with thin green trim, and green spinners, while the rest were camouflaged, with a disruptive pattern of Dark Green and Dark Sea Grey on upper surfaces and PRU Blue on the bottom.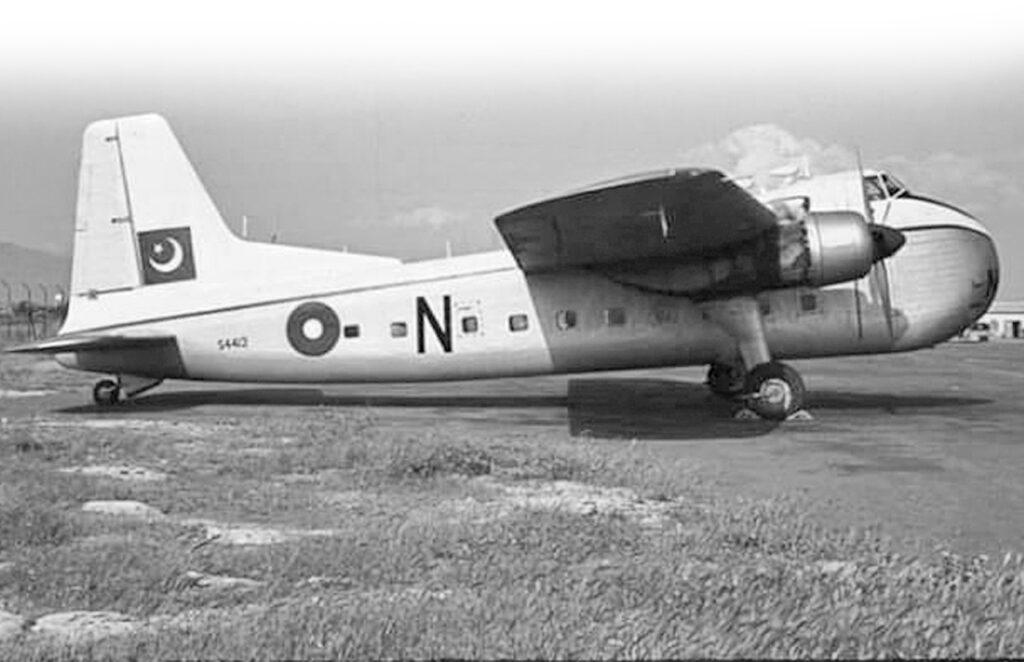 It looks that the new aircraft arrived just in time to take part in flood relief operations in Eastern Pakistan operated by No 6 Sqn during July 1954. Such operations were very intense and required a full effort from the Squadron. During similar operations in 1955 in Pakistan 146 sorties were flown and in 1956 in Eastern Pakistan – 108 sorties.
In September 1953 No 12 Heavy Bomber Squadron was converted into Composite Squadron. In the new establishment, the Squadron had three flights: Air Headquarters Communication Flight operating Dakotas and a single Viking, Target Towing Flight with Tempests, and Heavy Bomber Flight flying Halifaxes. It looks that the Squadron did not operate Freighters, initially, and Freighters joined the fleet only after withdrawal of Dakotas in 1955. It also appears that at the same time few Freighters were modified to carry two 1,800 kg "block-buster" bombs. Limited training took place in night bombing, and it seems it was just a temporary measure to keep aircrew current in bombing missions until B-57 Canberras were delivered from the US in 1960.
In May 1956 Transport Flight of Conversion School moved from Mauripur to Lahore, and on 1 July 1957, No 3 Sqn was established as an independent training unit. It operated 6 Freighters 21P and prepared freshly graduated aircrew from RPAF College, Risalpur to take on operational duties.
During 1961, while preparing to phase out the type, Pakistan withdrew 10 Freighters from service, and offered them for sale on civilian market. S-4401 and S-4402 were sold to Straits Air Freight Express in New Zealand, S-4427, S-4432, S-4434 and S-4437 to Trans Australia Airlines, S-4412, S-4416, S-4436 to Ansett-ANA pvt. Ltd in Australia and S-4438 to Pacific Aviation Ltd, Australia.
The same year, 1961, few remaining Freighters proved their worth in yet another role when Sindh province was hit by plague of locusts. This was considered a very serious threat that could even cause famine, so immediate action was called for. Four Hawker Sea Furies of No 23 Sqn reconnoitred the area looking for locust swarms and later calling upon five Freighters to cross-spray the effected areas. Field modifications included installation of a 700 gallon tank for chemicals, and spray booms under each wing, containing 50 nozzles each. This allowed single Freighter to spray an area of up to 2000 acres in one sortie. The operation turned out to be a huge success and helped in averting a national disaster.
In March 1963 Pakistan received long awaited new transport planes, the state-of-the-art Lockheed C-130 Hercules from USA. They completely outclassed Freighters in every respect. On 30 June 1963 Freighters were officially struck off from No 6 Sqn inventory and mothballed. At the same time No 3 Sqn was number plated, thus making No 12 Sqn the sole operator of the ageing Freighters.
In July 1964 floods hit the Rangpur area in East Pakistan causing heavy damage and leaving about a million of people homeless.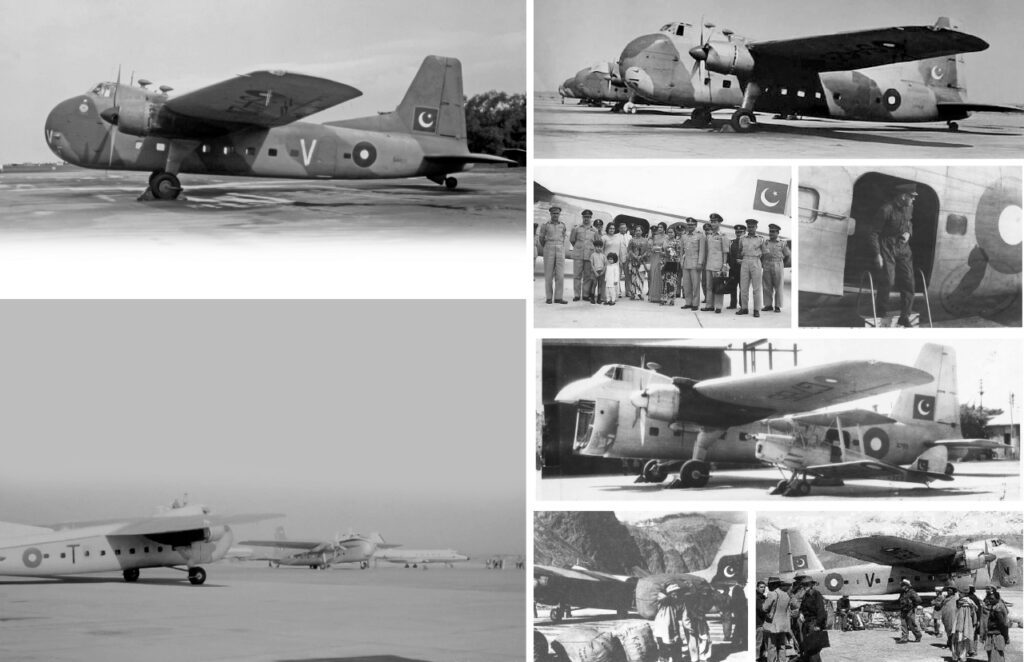 Aircraft of No 12 Squadron were immediately detached to Chittagong to participate in relief operations. This was the last such operation for Freighters. The next year Fokker F-27 Friendship was introduced into the PAF inventory, and the type gradually replaced Freighters. The last four flyable aircraft were sold to Straits Air Freight Express (SAFE) in New Zealand, S-4403 in 1965, followed by S-4406, S-4407 and S-4421 in 1966. Those aircraft, although struck off the PAF inventory and owned by SAFE, were for a short while flown by No 12 Sqn aircrew, including Flt Lt Sohaib Qureshi, to keep them airworthy at the expense of New Zealand's company. The few remaining aircraft were scrapped in Pakistan, those from Chaklala in a scrapyard in adjoining Dhoke Khabba area of Chaklala air base, and the ones from Lahore at Aluminium Utensil Making. A sad fate following 18 years of faithful service.
Out of the aircraft operated by the RPAF and PAF, S-4403 is preserved at Nelson Founders Museum as ZK-CLU, as the cockpit section of S-4406 is on display at Ferrymead Museum, Christchurch. S-4438 is preserved in Australian National Aviation Museum, Moorabbin Airport, Melbourne as VH-ADL 'Tasmanian Devil'. Unfortunately, out of 81 aircraft on PAF inventory, not a single Freighter was preserved in Pakistan. In author's opinion, the last relic should have been preserved locally, and an exhibit formed around it, commemorating the brave airmen flying hazardous missions to Skardu and Gilgit. Their sacrifice, now forgotten, definitely deserve it.