Aptly named the 'Pride of the Nation', JF-17 Thunder has proven its mettle not only in Pakistan, but all over the world. With its thunderous performances in air shows all over the world, JF-17 has mesmerized thousands. This is the tale of this amazing aircraft and its equally enthralling pilots who proudly carry the 'Green' across continents.
Cleared for take-off, Wg Cdr Khalid Mehmood (OC No 26 MR Sqn) lights all the stages of the afterburner and his JF-17 Thunder screamed down the runway. Its power like you've never felt before. No one had seen the JF-17 performance in an aerial display in an International Air Show and many did not know what to expect. The Thunder's reputation and most importantly Pakistan's Pride was at stake. Wg Cdr Khalid Mehmood felt the pressure of not just his Air Chief would be watching anxiously but of the keen eyes of air chiefs' from around the world who had come to the Zhuhai Air Show 2010. The JF-17 aircraft had come a long way in a short period since it was inducted into service in 2007. The PAF had put everything into it. It was time to show the world what Pakistan's next generation fighter looked like.
Cleared for Take-Off
Fraction of a second after getting airborne and without cleaning up the landing gears, he pulled back on the control stick and banked left sharply, sending the jet into a turn just after liftoff, followed by the climb. With thousands of pounds of deafening thrust, Wg Cdr Khalid Mehmood leapt into the air, in a heart-in-throat manoeuvre where it looked as if the pilot had lost control and the aircraft wing had hit the runway. Everyone in the audience was on edge, they had not witnessed such a feat in their lives before. What they didn't know that this was Thunder's signature manoeuvre, well-crafted to leave the audience spell bound at the very beginning of the demo. Since then, it has become the Thunder's signature manoeuvre at most air shows around the world. With the sensational take-off, Wg Cdr Khalid Mehmood had guaranteed one thing to the audience. They were in for one wild ride at breakneck speeds. What followed were sharp 90 degrees banks, brutal 180 turns, aileron rolls, snapping 6Gs to 8Gs in seconds, his heart fighting to keep the blood flow upstairs, the inverted fly past, barrel rolls and Cuban 8s, with a finale the vertical roll. The Thunder was in one of its natural habitats. At Zhuhai Air Show-2010 it was a flying start, the performance of JF-17 surpassed all expectations and Chinese media dubbed Wg Cdr Khalid Mehmood as 'Asian Thunder'. It was show stealer and then on, there was no turning back.
Behind the Scenes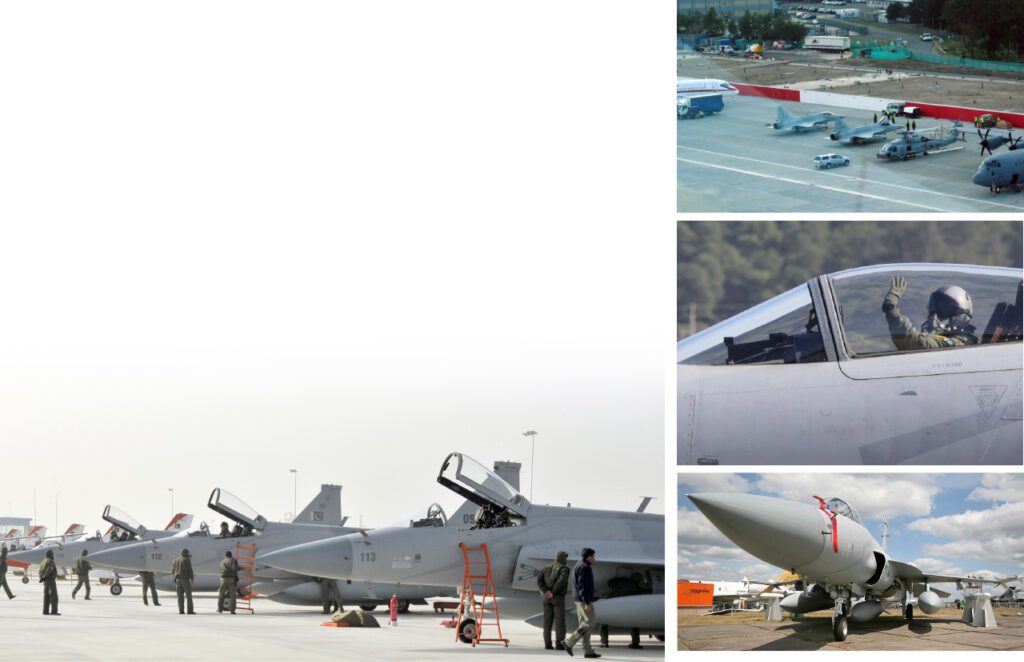 With its fleet now aging, the JF-17 was the PAF's answer for the next in line for the throne. Flying into the future, the Thunder had been on the forefront of PAF operations. With its debut performance at Pakistan Day Parade in 2007, JF-17 Thunder righteously claimed the 'Pride of the Nation' status among the Pakistani nation. In year 2010, PAF decided to showcase the aircraft at an International Forum and that's how JF-17 appeared in Farnborough Air Show at England as 'Thunder from the East'. In this air show, the challenge was the marathon ferry flight of under qualification 'Thunder' to England while flying over two continents. Handling logistics for such a long flight and in different countries was not an easy task. Soon a group of passionate pilots, engineers, technicians was detailed under Wg Cdr Khalid Mehmood to plan the entire ferry route in its minutest of details. Seldom PAF has conducted such an epic flight of fighter aircraft that included flying over deserts of Middle East, scenic views of Turkey / Europe and crossing the English Channel in last leg from Italy to UK.  Aircraft tail No 10-113 piloted by Wg Cdr Khalid Mehmood was first to land at Farnborough at 1430 hrs on 16 July' 2010 followed by aircraft tail No 10-114 flown by Sqn Ldr Azkaar ul Hasnain. For the disappointment of many aviation enthusiasts, Thunder remained on static display (as planned) for the entire show displaying its lethal arsenal and sleek design. Although the news was dominated by big beasts, the international media also especially focused on the debutant, Made in Pakistan JF-17 Thunder, as the 'New Kid on the Block'. From then on, the Thunder was going places, becoming centre of attraction in shows in China, Turkey, Middle East, Europe, etc. In November 2010, PAF decided to feature the Thunder in static as well as aerial displays in Zhuhai Air Show in China.
The task of entering the JF-17 Thunder for aerobatics demonstration at the international air show was enormous. Before leaving for Zhuhai, the PAF high ups had left everything to Wg Cdr Khalid Mehmood and his team to decide, to put together an aerial demo of a dozen or so manoeuvres that showed off the Thunder's incredible handling. "Air Staff showed full confidence in me and my team which not only boosted our morale but also motivated us to deliver our best. I started by asking myself a question, how the first aerial display of JF-17 Thunder should look like. Being a visitor to air show in the past, I exactly knew the expectations of aviation enthusiasts and general public," Khalid Mehmood remembers. Being among the pioneering JF-17 pilots, he knew well the strengths and weaknesses of the platform.
Moreover, he was also aware of the toll these manoeuvres could have on the human body during an aerial display. His team had to plan immaculately and there was no room for a mistake or error. "From F-16s to Grippen and Russian to European aircraft, I started watching dozens of videos of these famous display aircraft. Soon it dawned upon me that we needed to have a signature manoeuvre for Thunder, and this is how we came up with the idea of manoeuvres like 'Thunder Take-off' and in that lift-off to 10 feet, sharp turn followed by pull up just after take-off with gears still down," recollects Khalid Mehmood. Slowly and gradually the team finalised the display routine on papers. Next thing was going up in the air. The manoeuvres were first flown at 10,000 feet, then at 5,000 feet and then going down in the intervals of 1000 feet before finally practicing them at 500 feet. For that a team of two pilots, Wg Cdr Khalid Mehmood and Sqn Azkaar were selected and both practiced the aerobatic sequence. After numerous trials, final display sequence was locked and was approved by the Air Headquarters.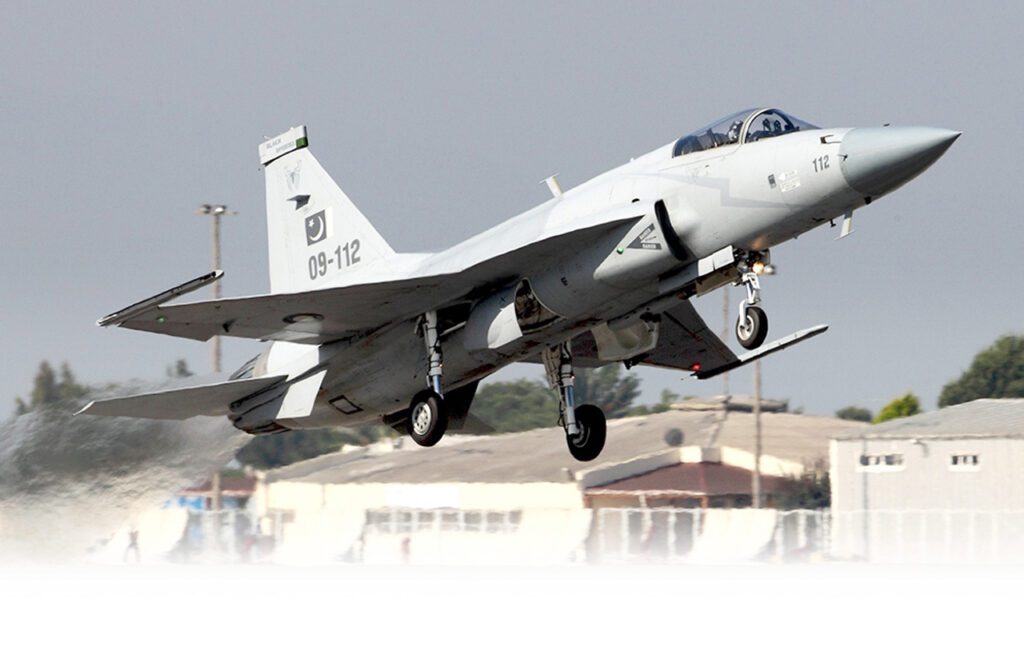 Next up was the preparation of ferry flight to Zhuhai China. This time it was not that big a challenge as the team had the experience of ferrying the JF-17 to UK. However, PAF has not conducted such classic flight that included crossing over the majestic Karakoram and the Himalayas, some of the toughest terrain on earth and halfway across into south China, with layovers at various Chinese airfields to rest and refuel. It was an uphill task that needed not only extraordinary efforts but also a sound and meticulous planning. Two C-130 Hercules aircraft of No 6 Sqn were tasked to carry the engineers, technicians and logistics support equipment to escort the three-ship Thunder formation to Zhuhai, China. It was a high stakes adventure but with higher rewards. The tiring journey was soon forgotten when the pilots landed and stepped into the limelight. The red carpet reception and the vibe was incredible as the Thunder pilots were treated as celebrities.
Five days at Zhuhai saw JF-17 Thunder reputation sky-rocket to unimaginable levels. Wg Cdr Khalid Mehmood and Sqn Ldr Azkar ul Hasnain flew in tandem every day during the show. Chinese national and international media exploded with the news of JF-17s 'Thundery' performances, the demo pilots became the talk of the town and major newspapers covered the stories on their front pages. Potential buyers also showed keen interest as they all knew that this promising aerial platform was here to stay and would compete with its rivals in a big way. Thunder's maiden performance at an international forum was not only a great success but also gave confidence to PAF leadership to send it around the world in future.
Resultantly, June 2011 saw a team of JF-17 Thunder including Wg Cdr Khalid Mehmood and Wg Cdr Ronald Afzal to participate in centenary celebrations of Turkish Air Force held at Izmir. The hosts had especially requested the PAF Leadership to send Thunder to be part of these historical celebrations. Thunder and its demo pilots lived up to their enviable reputation and captured the limelight especially among the European media. Flying in tandem with the aerial display of famous 'Turk Solo', Thunder's display was a treat to watch.
Carrying the Flag Around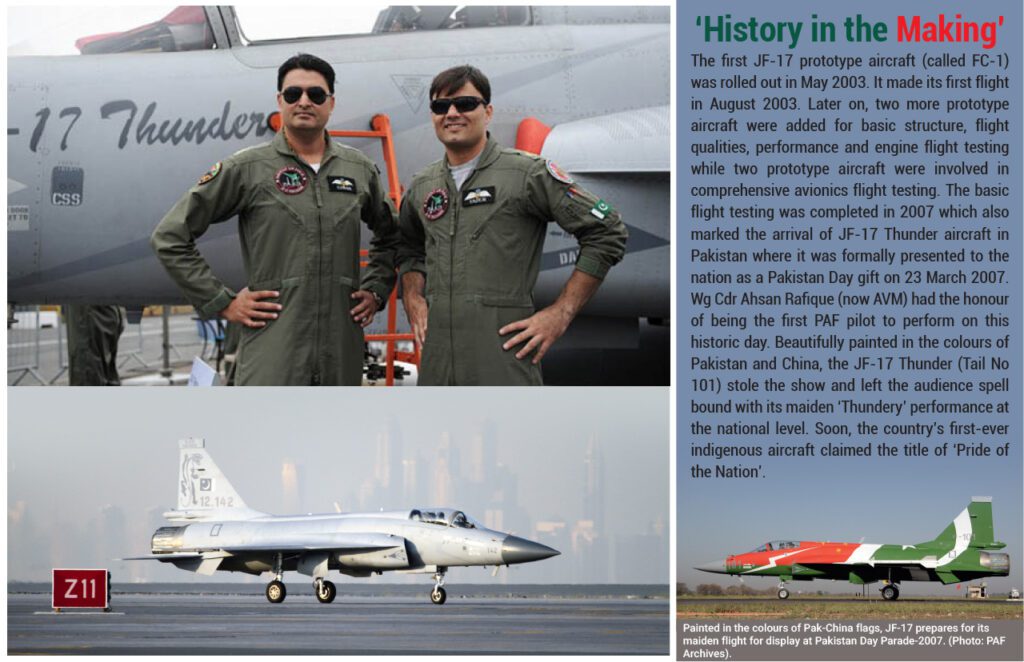 By now, the Thunder had developed a enviable reputation as a state-of-the-art modern aircraft, supremely agile, robust, and able to tolerate admirable level of stress. Internationally, it emerged as a most lucrative aerial platform for air forces in need of upgrading their ageing 3rd generation fleet of fighter aircraft. Back at home, the first batch of 50 aircraft was ready to be delivered to PAF which also emerged as the headline news among the international media. At the same time, aerial displays at China and Turkey had greatly enhanced its reputation around the world and the organisers of major air shows were keen to invite Thunder for its aerial performances. This led to Thunders first ever participation in one of the world's largest air shows, the Dubai Air Show. Wg Cdr Ronald Afzal along with Sqn Ldr Yaser Mudasser were selected to perform at Dubai Air Show that was held in November 2013. "Whatever is done is done. If you did well in past, it is history. Every day is a new day and you have to start it all over again, it is as simple as that. The pressure was enormous as we were performing for the first time in Middle-east, in a completely new set of climate and environment, however, all went as planned," reminisces Sqn Ldr Yaser Mudasser. Flying side by side with world's best, Thunder proved equal to the task and made a mark during the entire show. Once again, its performance remained under the radar of many potential buyers and aviation enthusiasts alike.
Thunder over Paris
Proving its mettle across Asia, it was time for the Thunder to move on to European skies. In 2015, the organisers of the renowned Paris Air Show sent a special invitation to PAF leadership to send JF-17 to participate in static as well as aerobatic displays.
That year's Paris Air Show was unique. Unlike previous years, this year there were only two fighter jets participating in the category of solo aerobatics display: France's Dassault Rafale and 'Pride of Pakistan' JF-17 Thunder. Although, the format of the air shows is in no way meant to declare a winner or loser, however, this year's air show focused all its attention on these two key players. Dassault Rafale had been participating and displaying its strength in various previous air shows. However, it was JF-17s maiden performance in the European skies, taking the stakes for PAF pilots to new heights. "It was a great honour for me and my team to perform for the first time in European skies. PAF leadership had showed full confidence in me and my team, now it was time for us to deliver, that too, in the most befitting manner," reminisces Air Cdre Usman Ali (then Wg Cdr), who was leading the JF-17 demo team at the show.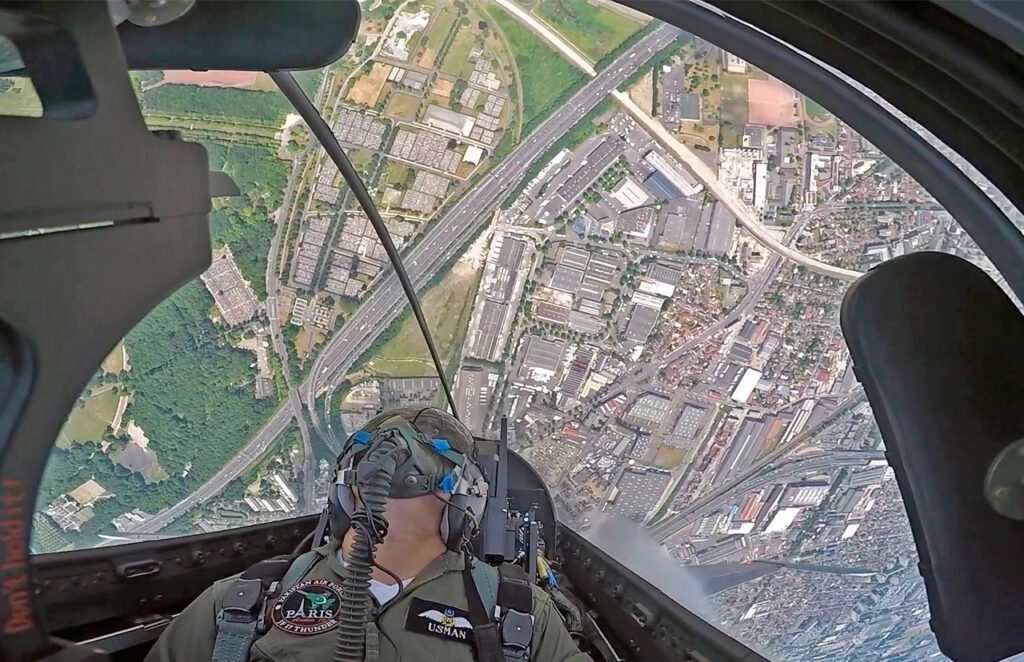 On the first day, Rafale went about its climbs, loops and dives in a routine manner having performed the same manoeuvres at previous Paris and other shows in the Middle-East and Asia. As for the Thunder, it was a proud moment for the circuit's youngest racer. "Thunder -1, you are cleared for take-off," the words Wg Cdr Usman Ali had been waiting to hear from the control tower. He pushed the JF-17 to the max, diving into the famous 'Thunder Turn'. He's hit with a crushing force of eight times his body weight but it's his favourite manoeuvre, one that is indicative of the jet's full potential. Max turns, half Cuban 8s, solid pull-ups without the Gs easing off, Usman pushed the aircraft to its limit and the jet didn't even break a sweat.
Thunder has made the history and made it in style. As the demo finished and the aircraft touched down on Paris Le Bourget runway, it was already a star. It had stolen not only the hearts of the aviation enthusiasts but also the lime light of the international media. Instantaneously, Thunder's maiden demo performance made to the headlines of major newspapers, TV channels and famous social media sites. Interestingly, JF-17 Thunder was not the only one which stole the limelight, Sqn Ldr Yaser Mudasser earned rockstar status for his uncanny resemblance with the Top Gun film hero, Tom Cruise. Earlier during the ferry flight from Pakistan, his picture with PAF JF-17 Thunder had gone viral on the social media, making him a celebrity over night.
"It was our show. We were done. Another season in the books," said Wg Cdr Usman Ali with a grin.
Back to Zhuhai
For next couple of years, duo of Wg Cdr Yaser Mudasser and Wg Cdr Zeeshan Baryar was selected to take Thunder around the world, especially at Zhuhai in 2016 and Dubai in 2017. For Yaser Mudasser, it was his first appearance at Zhuhai. However, more than the Paris air show he enjoyed demo flying at Zhuhai. "In Paris there are altitude restrictions, cannot do vertical rolls and busting the crowd line means immediate disqualification. At Zhuhai, pilots can go big on manoeuvres, you have more liberty to exhibit the aircraft's true potential," he added. Xiaolong (Chinese name for JF-17 Thunder meaning fierce dragon) was coming back to its natural habitat after six long years. The Chinese spectators were desperately waiting for their beloved 'Fierce Dragon' to perform over the coastal city, a few hour drive from bustling Hong Kong. "Solo aerobatic flying is all about pilot's skills, razor-sharp intelligence and swift reflexes. It takes high degree of professional skills required to operate those fighter planes in that limited six and a half minutes flight demo packed with display of all-available tricks of the trade," said Wg Cdr Yaser Mudasser. Therefore saying that the selection criteria in the PAF for demo flying is strict, is an understatement.
Wg Cdr Yaser Mudasser, who has been part of the Thunder demo team for quite some time, explained that aerobatic flying demanded the best of both the aircraft and the pilot. While the aircraft must be highly manoeuvrable, tolerant of G loads, the pilot must also possess matching skills and enduring physiological/ physical stamina. That's why it's mandatory for the pilots to follow a strict physical exercise routine, prescribed sleep cycle and selective diet schedule.
As envisaged, Xiaolong once again came up to the expectation of general public, not to mention the keenness which the potential buyers showed during their visits to various forums including presentations, static display areas and flight simulator.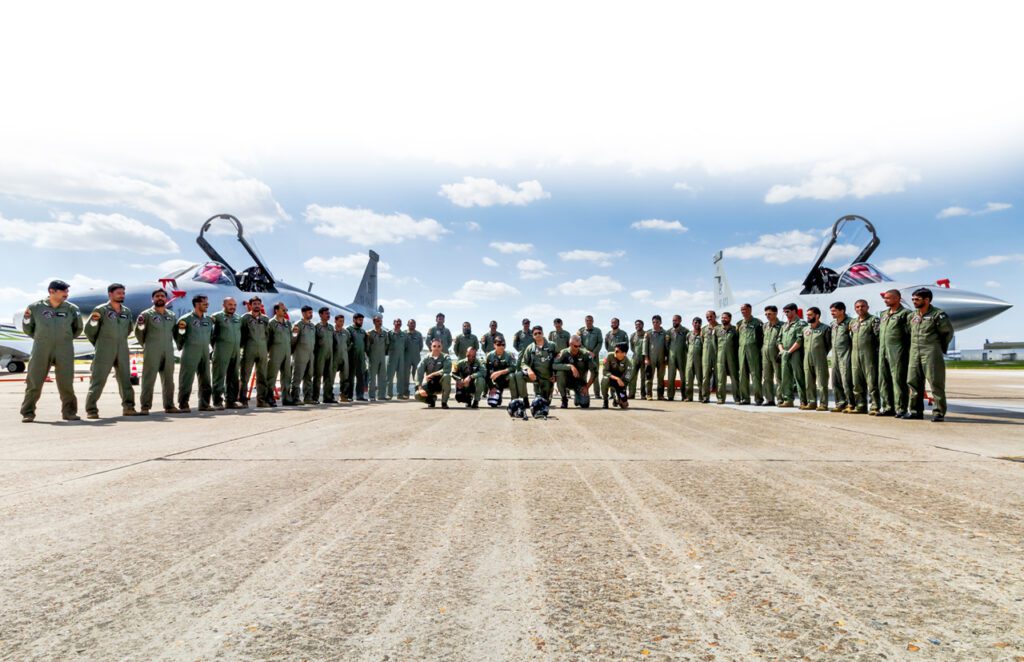 Radom 2018
Cordial and friendly relations between Pakistan and Poland has always been matter of pride for the two nations, especially the two air forces. The history of these enviable relations dates back to 1947, when a handful of polish aviators led by legendary Air Cdre Turowicz helped the then nascent RPAF stand on its own feet. The Pakistani nation has not forgotten it and has always reciprocated the same whenever the need arose. What can be a better opportunity for the Thunder then to participate in 100 years celebrations of Polish Air Force held at Radom in 2018? Receiving a special invitation from the Polish comrades, the PAF contingent under Sqn Ldr Zeeshan Baryar left for Radom in August. Sqn Ldr Sibtain Akhtar was the other pilot selected for the demo team. Realising the importance of the event, military forces of eight countries dispatched their demo teams to Radom. Throughout the event, the skies over Radom remained coloured with the smokes of world's best aerobatic teams, Frecce Tricolori, Patrouille Suisse, Midnight Hawks and Turkish Stars, just to name a few. JF-17 thunder participated alongside some of the big names including Su-27, Gripen, F-16, and F-18s. However, painted in all green with Pakistan crescent and star as its livery, JF-17 Thunder remained the star of the show and gave aircraft spotters a great chance to run for their money.
"It has been a real matter of pride to fly the all green Pakistani flag painted Thunder in foreign skies, you can't ask for a better chance, that's what I believe," reminisces Sqn Ldr Zeeshan Baryar, who buzzed the Radom air space with his spectacular aerial display. Another thing that gave an extra edge to JF-17 was its performance in European skies after a break of three years. It was worth a wait for the aviation enthusiasts as they enjoyed every bit of Thunder's thundery performance.
Besides racing low level knife-edge high G manoeuvres on the turns and pull ups, Baryar's favourite was the high alpha pass, when a pilot slowed the jet to almost its stall speed. "There is no margin for error and it's a manoeuvre that's dramatic with the white puffy smoke trailing and no chance of recovery if something goes wrong at 300 feet," he said, explaining the romance of combining risk and awareness to do something spectacular.
"JF-17 is an incredible jet, much more forgiving and easy to operate than its predecessors, thanks to its state-of-the-art avionics and aerodynamic design. You can have a bad day and the plane will still do well," recalls Sqn Ldr Sibtain Akhtar.
"It's modern, sleek, and agile. It attracts the attention of the air forces, potential buyers from around the world. To them it is surprising that Pakistan can develop such a high quality weapon system that too, in a short span," Sibtain added describing the jet as the cutting edge of technology.
Paris Again
Three-shipped Thunder formation fitted with three drop tanks each, landed amidst moderate showers with low clouds loitering around Le Bourget, Paris in the afternoon of July 2019. The demo pilots, Wg Cdr Zeeshan Baryar and Sqn Ldr Sibtain Akhtar switched-off the roaring engines of Thunders as the ground's man indicated to do so. Opening the canopy of his green painted Thunder, Zeeshan thanked Almighty for the safe flight and stepped out of the aircraft. Nothing was new for him, he had been there four years ago. However, the only difference was that he was leading the demo team this time. With pleasantries exchanged, the team quickly moved to hotel to take rest as a hectic next day awaits.
"Paris air show is always exciting, no matter how many times you have already participated. It's the mega event where the variety of aerial platforms are vying to steal the lime light, that's why it's not easy. You have to remain focussed and forget that you are running into a competition. This is what we are told time and again by our leadership," adds Zeeshan Baryar. Demo pilots live for the rush of the show, the roar of the crowd, the chance to feel alive. They enjoy the attention not just from pilots of air forces of the world but especially from the Pakistani diaspora settled abroad. These Pakistanis come from all across Europe to see PAF perform at Paris. For them it is a morale booster, moment of pride to see their own indigenously manufactured aircraft compete with the best of the best in the game.
"It's about giving them a bit of a show. Lay down some impressive performances, talk to them while showing around the aircraft, have photographs with them and sign few autographs," said Sqn Ldr Sibtain Akhtar.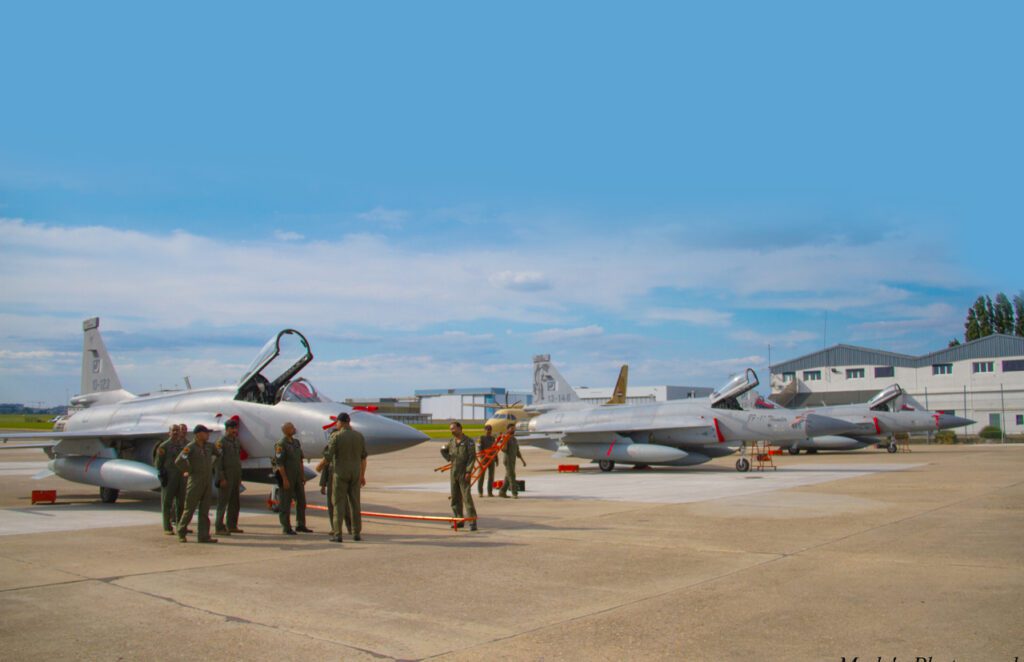 No one can doubt the potential of the West's armour and weaponry. But the Thunder is the state-of-the-art rival. It is fast, innovative and efficient and so much more. PAF designers and engineers took everything they knew about aerodynamics and packaged it into the JF-17. Commendably, unlike some of the world's other most super sophisticated 5th generation aircraft, the Thunder did not see a decade of controversy about its technical abilities or get plagued by costly overruns. It possesses a huge performance over match against many late generation aircraft. In many ways it is PAF's insurance policy. With designers and engineers pouring over every detail of this machine, the Thunder was developed exclusively for defeating the highest end threats. As the Thunder community describes it, "It seems to have been built by a pilot, easiest aircraft to fly, it's a pilot's aircraft, so easy that we did not need a dual seater for more than 15 years," adds Air Cdre (now AVM) Khalid Mehmood with a smile.
JF-17 Thunder's incredible aerial performances across the world for the last decade or so has already started to bear fruit. Nigerian air force, which had earlier contracted with PAC Kamra, has received three JF-17 aircraft during a graceful ceremony held in June 2021. Large number of air forces have shown keen interest as the future of JF-17 Thunder sales looks promising. With the rollout of much awaited and eagerly anticipated Block-III version of JF-17 Thunder, chances of many more air forces putting their money on this state-of-the-art, modern and 'Made in Pakistan' fighter jet would be ever growing.