FS Hussain was a very inimitable sort of pioneer. He has a long list of 'firsts' to his name, much higher than the number required to be titled as a successful pioneer. His remarkable mental prowess proved that wit can overtake physical power any day, both of which he possessed ample portions of. However, FS Hussain was made not by the abilities that nature bestowed upon him. Instead, he chose to grab life by the arm and lead it exactly the way he intended it to. The older PAF veterans had the fortune to see him in the skies when they were young and they swear that nor any other pilot came close to his prowess then and neither comes close to this day. Appropriately titled the 'Prince of Pilots', FS Hussain was one of those rare breeds of men for whom life is little more than an opportunity to push their limits every second they remain alive.
12 March, 1950 was a big day for Pakistan. Iran had become the first nation to accept Pakistan's sovereignty. And now, the nation's Shah had arrived in Pakistan for a visit. You could see the posters everywhere. Everybody was thrilled. The air force was no exception. It had chosen its best for a solo display, Flt Lt FS Hussain, banking it all on him. FS Hussain (affectionately known in PAF as 'FS') was well-aware of the stakes and had agreed without hesitation. Now, on the day of the ceremony, he stood with his trusty Fury aircraft, making last minute checks. He felt a bit overwhelmed. He knew it was an honour to be chosen for such a task. But now, he was experiencing mixed feelings, pride and nervousness…
He was usually not the one to get nervous. But this…this was different. It was the Shah of Iran. Royalty of the first order. The stakes were very high as the entire nation and its air force has chosen him for this honour. He knew he had to deliver his best.
FS started up the powerful 18 cylinder Bristol Centaurus engine of his powerful Fury. It was a perfect day for solo aerobatics at one of the oldest airfields of Pakistan, the RPAF Risalpur. Producing almost 2400 Hp of max thrust, FS took-off for the aerial display which would be remembered for the times to come. He started off with his signature manoeuvre for which he was widely known, 8-pointed slow roll at almost tree top level. Rolling his aircraft just a few feet above the ground, the propeller of his Hawker Fury was kicking up dust on the runway. The crowd was held spellbound with this death-defying manoeuvre, even the Shah was on the edge of his seat. FS continued with the display, displaying marvels one after another. He made it look like child's play. However, the Shah knew that behind the smooth execution lied hours of painstaking and assiduous practice.
As soon as the display was over, the Shah requested to meet FS Hussain in person. A charismatic conversation thus ensued between the two, leaving the Shah charmed and FS Hussain humbled. In fact, the Shah was so taken with FS Hussain's ability that he ordered his accompanying court poet to write a couplet in honour of the maestro. A rare honour for FS and for the nascent air force.
Humble Beginnings
This is the story of the legendary Fuad Shahid Hussain who rose to international fame during 1950s, mainly due to his breath-taking demonstration of aerobatics in the various air displays held during that time. A competent officer, he was a fighter pilot of highest class who had developed the feel and touch in flying that are seen all too rarely. His accurate and delicate flying skills and his conspicuous courage and dexterity in experimenting with unconventional manoeuvres enabled him to make an aircraft do things that others simply could not.
Fuad Hussain Shahid was born to a noble family from Lukhnow. Born on 20 July, 1924, FS Hussain was the youngest amongst six other siblings. His father was Shahid Hussain Qidwai, an affluent and cultured Taluqdar of Ghadia District in India. FS Hussain spent his early years studying in La Martiniere College, Lukhnow. Even in his young years, it was pretty obvious to his family that FS was not the one to be kept grounded for long. It was evident that he needed a life that would constantly push him to his limits. The air force was an obvious contender. FS Hussain joined the Royal Pakistan Air Force on 4 September 1944. When the Muslims finally secured their homeland in the form of Pakistan, FS Hussain was one of the pioneers who moved to Pakistan and help set up the nation's air force.
FS Hussain also helped in establishing No 5 Sqn of RPAF, which was formed on 15 August 1947 in Peshawar. The squadron boasted Tempests a formidable aircraft of that time. No 5 Sqn went on to be the first step of several legendary men. FS Hussain can be counted as the top brass among these men and this became apparent from the start.
A Show Stealer
FS Hussain established himself as a flying prodigy from an early point in his career. He was doing slow rolls, flying inverted at tree-top level, executing manoeuvres that no young pilot with his level of experience could pull off before him. His reputation grew and he was selected to do what he did best at the first aerial display of RPAF held on Pakistan Day. It was the nation's first Pakistan Day celebration in 1948 and FS Hussain's first aerobatic display in the official capacity. And what a show it was.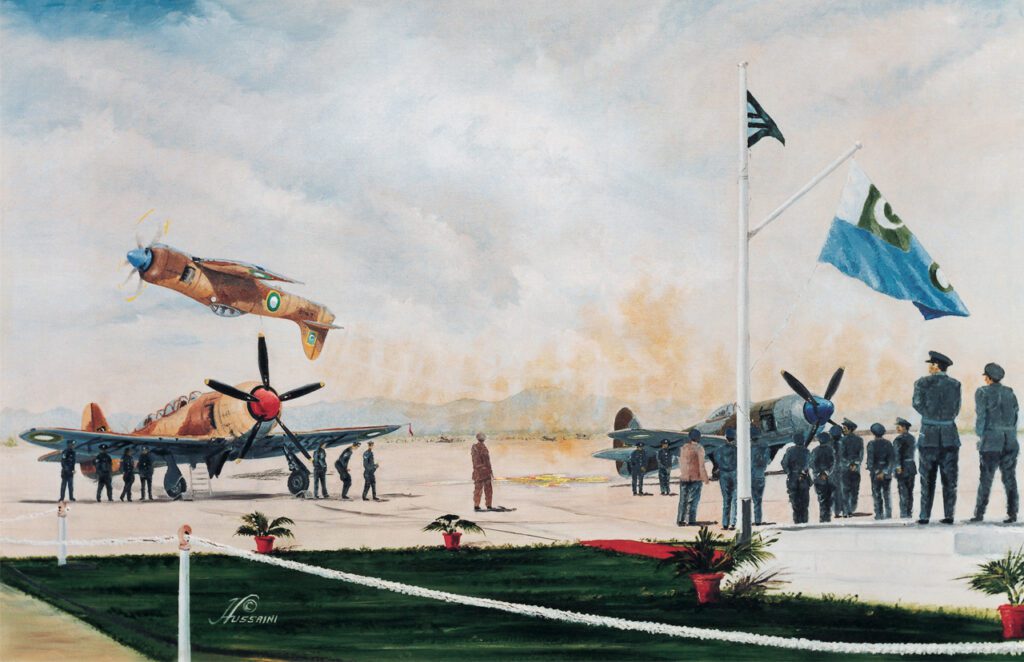 A young nation filled with hope, a populace caught in the fervour of being freed from tyranny and a military determined to protect their people with their lives. This was the general degree of passion in Pakistan at the time. And it was contagious to the highest degree. The parade was a symbol of the spirit of a young nation and its people, resilient, reckless and standing strong. FS Hussain was the epitome of this sentiment. Easily the star of the show, the daredevil had a million eyes on him that day. The show started with thrilling manoeuvres pulled off by a Tiger Moth, followed by formation flying by Harvards. These were followed by a death-defying tail-chase executed by 2 Tempests in which FS Hussain was at his best.
FS Hussain dazzled the nation again in 1950, at PAF Base Drigh Road in Karachi. The guest of honour was Prime Minister Liaquat Ali Khan. There were also around 145, 000 spectators to watch the show. FS Hussain started the display with his signature slow roll. This particular manoeuvre requires tremendous skills. FS flew his Fury Fighter inverted at a dangerously low height, with the tail almost touching the ground, at 450 MPH and completed a perfectly executed slow roll.
One of the fans of FS Hussain was the Chinese Premier Mr Chou en Lai as well. During his official visit to Pakistan on 22 December, 1956, FS Hussain was once again called upon to perform for the premier. He enthralled the spectators at PAF Mauripur with his perfectly executed moves. After the display was over, the Premier requested to meet him in person to admire his ability, a true honour which he rightfully deserved.
A Rare Honour
In 1949, RPAF had recognized the substantial potential that FS possessed. At the time, there was a prestigious course being offered at Central Gunnery School at Leconfield, UK. RPAF selected FS Hussain to be the part of this course. It turned out to be an apt decision. His performance left many in awe. A fearless pilot from an unknown land, exotically reckless in his demeanour, created significant buzz in those times. At the end of it all, FS Hussain led the course with the highest air-to-air and air-to-ground gunnery scores ever achieved by a commonwealth pilot. The Commandant of the Central Gunnery School had this to say about him, "This officer who is a member of the Royal Pakistan Air Force, for combat flying is outstanding in every way. He achieved the finest result in the air ever experienced in the Central Gunnery School, Leconfield, England." He continued to have a long association with the RAF, being a graduate of the West Raynham Fighter Leaders' School.
In Nov 1951, FS Hussain took over the command of No 5 Sqn. He showed his true potential as a visionary leader during this assignment and won many laurels for the squadron. Under his able leadership, his under command fighter pilots learned the secrets of fighter flying and gelled together as a team. His efforts bore fruit on 12 Feb 1952, as the squadron won the precious Perry Keene Inter-Sqn Armament Competition Trophy for the first time.
Enter the Jet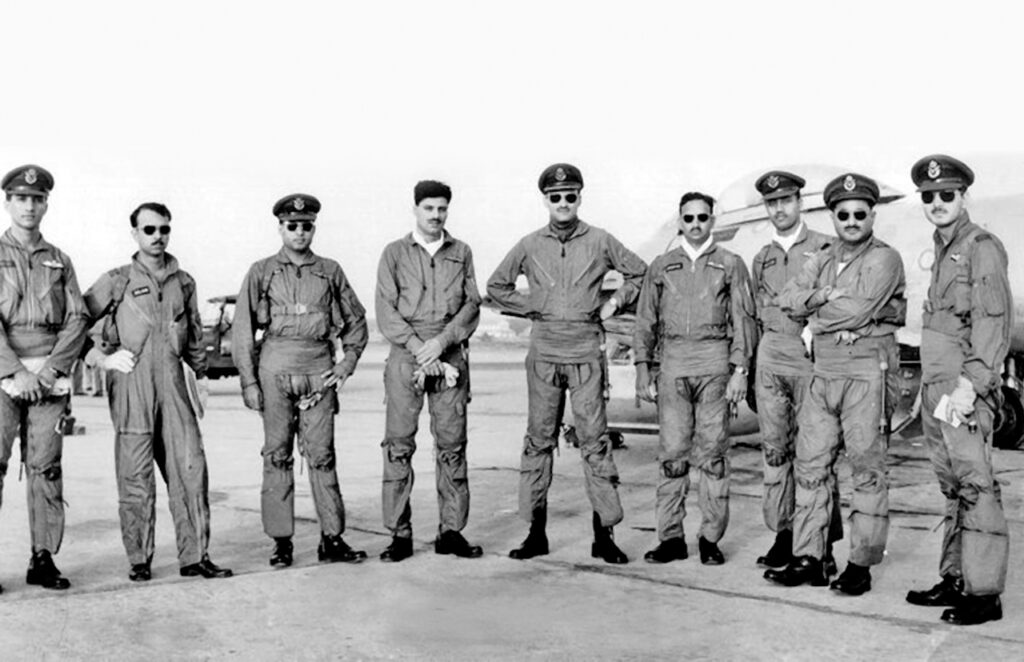 FS Hussain also played a pivotal role when PAF's transitioned from piston to jet engine aircraft. The Attacker was a British-built aircraft and it was PAF's first jet fighter. FS Hussain was chosen to lead the team that had been entrusted with the task of ferrying these new Attackers from UK to Pakistan. It was not an easy task. The stakes and risk involved was monumental. Fortunately, FS Hussain was the best man for the job. He played an instrumental role in planning the ferry route which went through Istres (France) Malta, El Aden (North Africa), Nicosia (Cyprus), Baghdad (Iraq) and Karachi. The route was challenging, however, he prepared it meticulously. The flight was uneventful and the aircraft reached Drigh Road without any problems. On arrival, the aircraft were commissioned in No 11 sqn, thus it became the first jet squadron of PAF. FS Hussain became the Flt Cdr operations of the squadron. His experience made him the quintessential figure when it came to modern aircraft. The British Attackers had some inherent problems. The most prominent pertained to its hydraulics, which led to under-carriage troubles while landing. The PAF pilots, with considerable help from FS Hussain, were soon able to overcome these problems. In 1952, No 11 Sqn formed an aerobatic team under his command, with the name 'The Paybills'. This was Pakistan's first jet aircraft aerobatics team, unsurprisingly formed by the legendary FS Hussain.
A Role Model
After dazzling thousands from all over the globe, FS Hussain was tasked with quieter yet equally important responsibilities. The most important was the command of the Mauripur (now Masroor) Air Base from 1961 to 1964. During these four years, he had prepared a batch of pilots which would go on to excel in every sense of the word, each more skilful than the last. MM Alam, Allaudin, Younus, Muniruddin, Sarfaraz Rafiqui, Saif-ul-Azam and Bill Latif are just a few of his students. These men would go on to defend the nation fearlessly in the 65 war, each emerging as a world-class pilot in his own right. But no matter how high they flew later in their lives, all of them considered FS Hussain a mentor, a teacher and, above all, a great human being.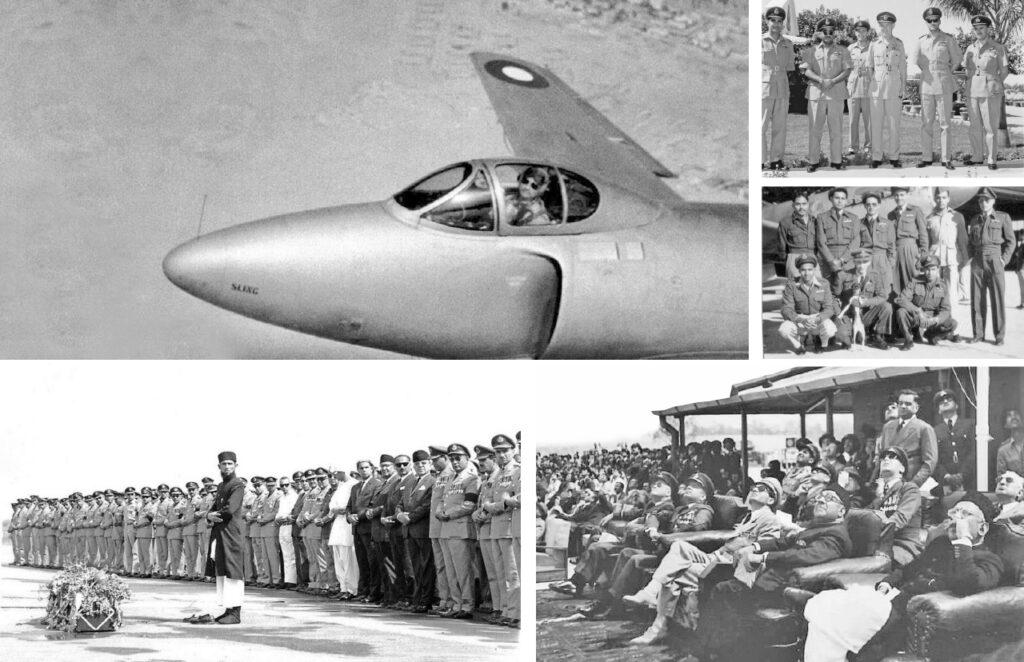 "FS Hussain, the greatest fighter pilot PAF ever had. He would loop an Attacker or F-86 inverted all the way, and at Karachi flying club we witnessed him do these very crazy manoeuvres in a Tiger Moth bi-plane. (He would) spin it from 2000 feet and scare the crap out of us," reminisces Air Cdre Sajad Haider (Retd), (legendary PAF fighter pilot of 1965 war). "But every second and inch during manoeuvres, he was in total control. God bless his soul," adds Air Cdre Sajad Haider (Retd).
When the 1965 war broke out, FS Hussain was a senior commander at AHQ and played an important part in success of PAF against the enemy. From formulating operational plans to implementing them in its true letter and spirit, FS Hussain proved equal to the task. After the war, Air Marshal Nur Khan tasked him to establish a flight safety institute in PAF. He worked day in and day out for making this possible in a very short span. FS Hussain travelled to the US for a comprehensive course on 'Air Force flight safety and accident investigation'. On his return, he established the Flight Safety set-up in AHQ. Today's flight safety structure of PAF owes a lot to the tireless efforts put in by FS Hussain during those testing times.
The Sad Demise
Nearing the end of his career, Air Cdre FS Hussain was serving as the Assistant Chief of the Air Staff (Training) at AHQ. It was during this tenure that his health started to decline. PAF's ex Air Chief, Air Marshal Zafar Chaudhry has very adequately summed up the reasons of his sad demise in his book 'Mosaic of Memory', he wrote:
"FS was totally dedicated to his profession and had only one desire and ambition in life: to stay in the flying business. Thus, when he started developing a physical disorder rather early in life, his reaction was to conceal it and to ignore it so that it should not lead to his being removed from flying status- a situation he was simply not prepared to accept. His love for flying far exceeded his concern for his own wellbeing; he simply could not imagine a life without the thrill of flying and, therefore, continued to pretend that all was well. The insidious malady remained untreated and, tragically, by the time it became obvious, it had already passed the stage of treatment. The Prince of Pilots died when still short of 45-leaving the PAF and the world of flying so much the poorer."
The legend took his last breath on 9 April 1969. He was laid to rest with full military honours. A large number of senior officials from military and civil institutions attended his funeral. His fans, devotees and admirers from all walks of life also attended his last rituals. He left behind an incomparable series of firsts and a legacy which inspires pilots even today. There is no doubt that the memory of the 'Prince of Pilots' won't fade from the annals of Pakistan's history for a long time to come.