It was a bright and clear morning, with excellent visibility to assault the Indian Air Force with an onslaught of haunting memories of the last time it violated Pakistan air space. It soon became apparent to the intruders that trespassers will be shot at. Wg Cdr Noman Ali fired an air to air missile, he promptly announced 'Fox Three', the brevity code for an active radar-guided missile hit.
He returned to base, signed the jet back to a ground crew that was made up of questions when they noticed a payload missing from under the wing. He went in for debriefing and prepared for the next mission. There was no time to be puffed up, no time to celebrate. Orders from Chief of Air Staff, Air Chief Marshal Mujahid Anwar Khan to his men were clear – to cloak themselves in humility, for God gives grace to the humble.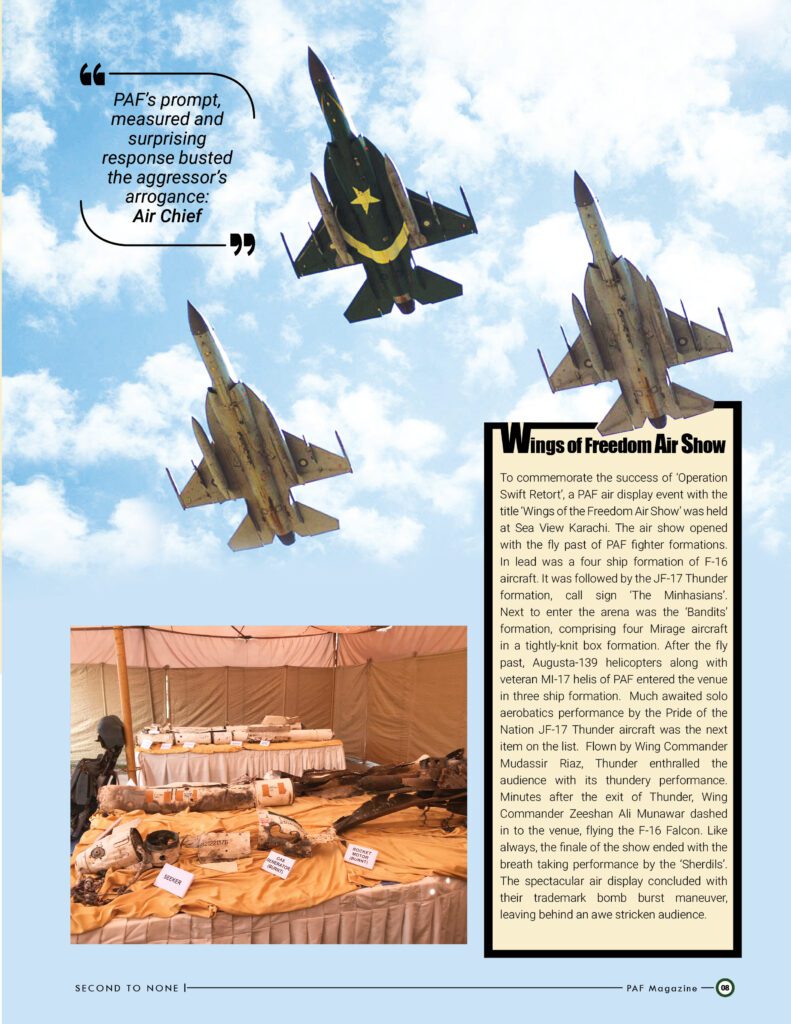 For the next five months Pakistan Air Force was on constant alert, no time to relax. Fast forward a year, Pakistan Air Force allowed a brief period of rejoicing. On the morning of 27th February, 2020, PAF marked the first anniversary of 'Operation Swift Retort' (OSR), which resulted in the downing of two Indian planes that had violated Pakistani airspace, last year. At a solemn ceremony, Air Chief Marshal Mujahid Anwar Khan, made his words count again, "While I assure Pakistani nation of the preparedness of the air force to counter threats, we will not compromise on sovereignty or territorial integrity of Pakistan. Remember, professionally we are Second to None." The Air Chief further added, "Pakistan Air Force, living up to its legacy, yet again made its mark through professional excellence and valor during Operation Swift Retort last year. Indeed, PAF's  prompt, measured and surprising response busted the aggressor's arrogance". He further said, "Today, I reiterate that commitment and caution; to respond to the aggressor was our compulsion, but measured and calibrated response was entirely our choice".
Earlier, a formation of fighter aircraft comprising F-16, Mirage and JF-17 Thunder aircraft which actively participated in 'Operation Swift Retort' appeared in the clear blue skies of Islamabad to commence the proceedings of the day. The lead, an F-16, was flown by Wg Cdr Ghaffar Buzdar in front seat and Sqn Ldr Hassan Sidiqui (officer who shot down an IAF SU-30 during OSR) in the rear. Flying in a tight formation, the Mirage on the left wing was flown by Sqn Ldr Abdul Rehman and JF-17 on the right by Sqn Ldr Abdullah. Seconds later, a JF-17 Thunder formation followed, same platform that played a significant role in the success of Operation Swift Retort.
The sky was blue and the air was filled with the spirit of commemoration. In the federal capital, as indeed in towns and cities throughout the country, it was the same story, rejoicing was off the ration. Families all across PAF bases and crowds who had turned up at Sea View, Karachi for the spectacular air show had waited for this moment. All the pent up joy of last year was unleashed. Jets flew in formations over cheering crowds. Prime Minister Imran Khan declared 27 February to be celebrated across the country as the Surprise Day From the capital to any other city in the country, Tuesday 26th February was another typical working day. There was nothing to indicate that this was going to be anything but just another Tuesday, when six Indian jets sneaked into Pakistan's air space during night. They dropped their payload in panic under threat from incoming PAF interceptors and retreated as fast as jets can travel. Only the Indian military could find humor in this pointless, incomprehensible, and disgusting act. It was hard to believe it really ever happened. It generated loathing for Prime Minister Narendra Modi and everything he stands for.
Drums of War Beat
It was time to push Modi off his couch. PAF, under the able command of uncompromising air chief, planned the befitting response for the enemy.Swiftly, the air chief took control of the conflict, planned it and directed it, himself, in the tiniest detail – let Modi have it in the chin.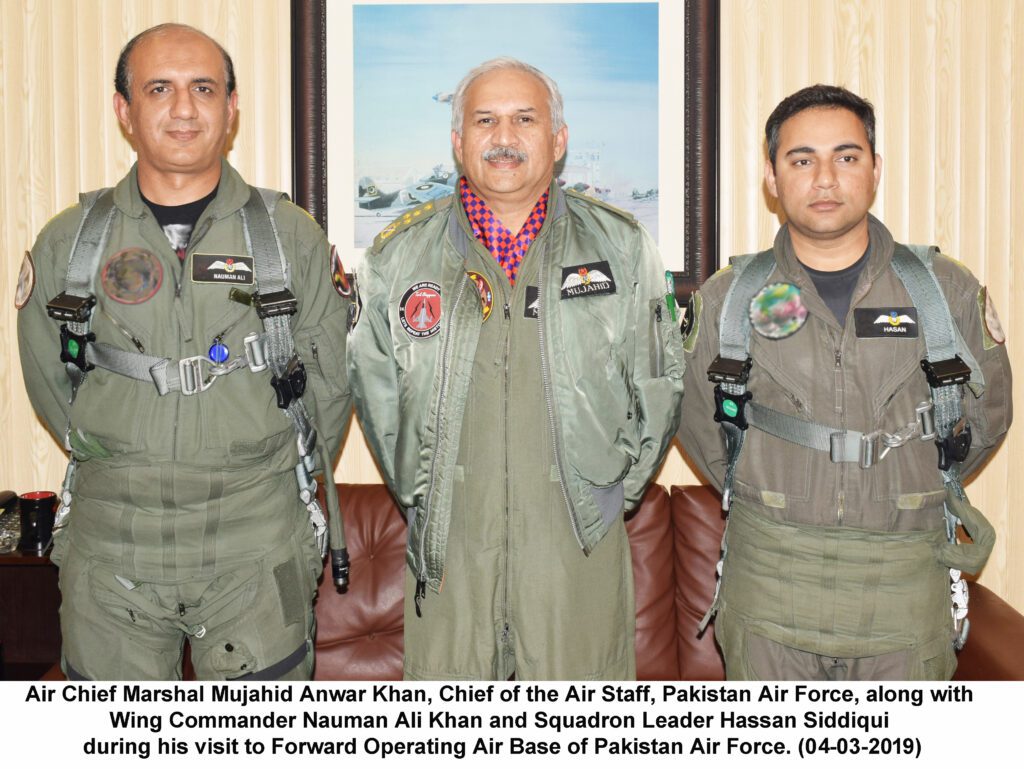 In a scenario right out of a spy novel, a special mission was about to become part of history. As they had done many times before in deadly wars against India, mission officers and architects at the helm of affairs gather for a briefing that will detail targets the next day. Once the targets were decided, they were passed to the squadrons. Carefully chosen sons trained to fighting edge, were poured into cockpits. They didn't hug their children, there were no final goodbyes, just another day in the office. Such devotion must never be forgotten.
Then it finally happened. On the morning of 27th Feb 2019, roaring PAF warplanes struck six key non-military targets inside IHK in broad daylight. PAF aircraft locked-on the targets with great accuracy but were ordered to drop their bombs in an open field to avoid any human loss or collateral damage. The successful operation not only demonstrated the nation's unflinching resolve but also the capability of its air force to respond swiftly with precision. Later in the day, PAF also shot down two IAF fighter jets in an air battle that ensued after they attempted to intrude into Pakistani airspace again.
The climb to this peak of confrontation started after the Pulwama incident, in Indian Occupied Kashmir, where Kashmiris have paid a heavy toll for the rest of the world's ignorance and blind prejudice. After an attack on an Indian convoy that killed 40 soldiers, a barrage of accusations were hurled against Pakistan. Having achieved peace and stability after 15 long years of war against terror, Prime Minister Imran Khan, offered complete cooperation in the investigation of the incident. Chief of General Staff UK Army, General Sir Patrick Carter, admired the way Pakistan accomplished peace and was holding on to it. The Royal Couple praised Pakistan's efforts when they acknowledged the huge undertaking of security in the country. But threats against Pakistan grew. Prime Minister Imran Khan was forced to caution his counterpart that he would take the fight to the enemy and it was going to be the hard way.
Few weeks after the daring daylight raid and downing two Indian Air Force jets, and despite tense regional environment, Pakistan went on to display its military might on March 23rd, 2019. Pakistan Day parade was conducted in full strength. Participation by major defence partners of Pakistan such as the Saudi, Chinese and Azerbaijan contingents, the Malaysian Prime Minister himself, stunning performances by Chinese and Turkish air forces, steeled the resolve of the nation.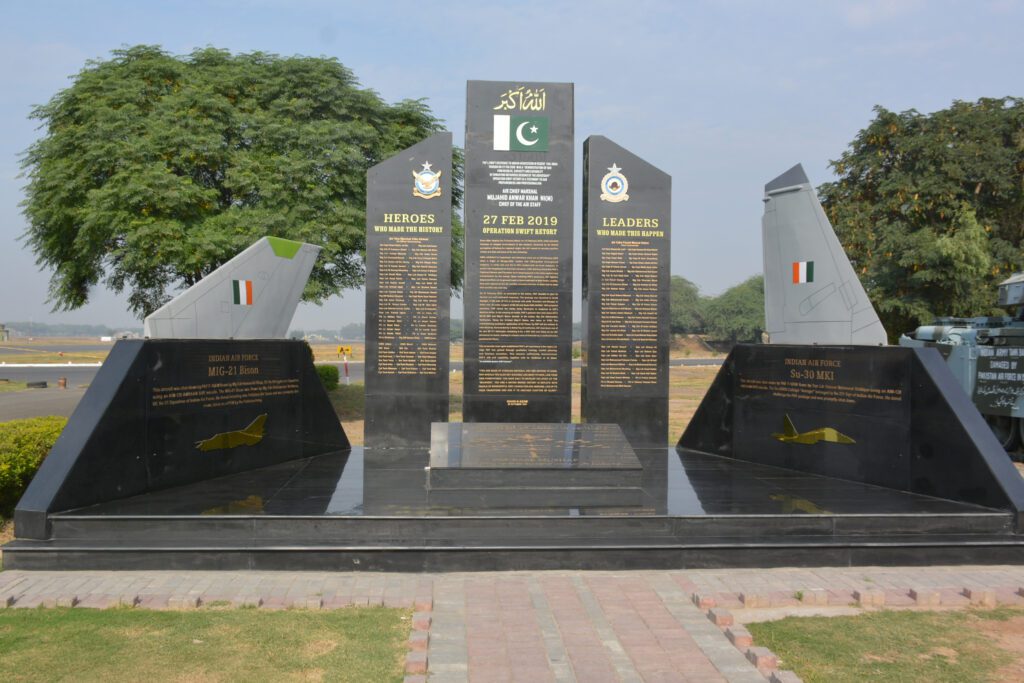 Even as the situation started to de-escalate, humiliated BJP government of India, backed by RSS radicals and fanatic media, continued to churn out false claims. The repatriated Indian pilot Wg Cdr Abhinandan Varthaman, was credited with an F-16 kill, turning an embarrassing defeat into a victory for an Indian public that was looking for answers from its military that boasts the highest defence spending in the world.
On 7th September, 2019, PAF countered false claims when PAF fighter pilots Wg Cdr Noman Ali and Sqn Ldr Hassan Siddiqui told their side of the story to the nation, in a widely watched TV program 'Mujahideen Aflak Ko Salam'. In the same program, Air Marshal Haseeb Paracha, Deputy Chief of Air Staff Operations, also turned down false claims made by IAF.
Earlier this year before the PAF commemorated Operation Swift Retort, it held a press briefing and showed the world remains of R-73 (Archer) and R-77 (Adder) missiles. They were retrieved after Abhinandan's Russian built Mig was shot down by Wg Cdr Noman Ali and crashed – the same rocket India claimed to have downed a Pakistani F-16.
Home to some of PAF's most prized trophies such as the IAF Gnatt fighter jet from the 1965 war and an Afghan Mig captured during the Soviet-Afghan War, none are as exciting as the PAF Museum's latest attraction. An entire section has been dedicated to Operation Swift Retort, where the tail section and debris of the IAF Mig-21 shot by PAF fighter pilot, a flying suit of Wg Cdr Abhinanan Varthaman, has been put on display.
A memorial at Mushaf Air Force Base, fighter town Sargodha, is an enduring tribute to the airmen who made history, and served their nation. It is not a typical 'Remembrance Day' memorial. The black archival wall depicts the names and the story of Surprise Day. The message is distinct – like in the past, Pakistan would change the ending and the enemy would glow with envy. The message is clear in the words of Air Chief Marshal Mujahid Anwar Khan, "Make No Mistake…"….