Professional sports athletes are always under immense pressure, trying to balance personal as well as external expectations. Add exhausting workouts, meets, and constant physical and mental stress to the mix, being a pro is a lifestyle choice that needs single mindedness, dedication, and perseverance. It is especially hard to deal with all this when you are just a kid. But the incredible talent of this little giant of squash, is impossible to ignore. Meet Huzaifa Ibrahim, a 14 year old athlete from Karachi, who loves his family and pets, and looks no different – an ordinary teenager. But look a little closer and there is nothing ordinary about this kid who has numerous titles to his credit.
In 2015, Huzaifa Ibrahim, had won Malaysian Juniors International Squash Championship, and went on to win Doha International Junior Squash Championship the same year. He won the Qatar International Junior Squash Championship in 2015 and 2016, and the gold under 13 in Japan Junior International Squash Championship. At present, he is the undisputed Asian Junior Squash Champion since 2015, and the only Pakistani player in all formats Senior and Junior, holding No 1 position – the list is long and distinguished. His fame keeps growing from competition to competition.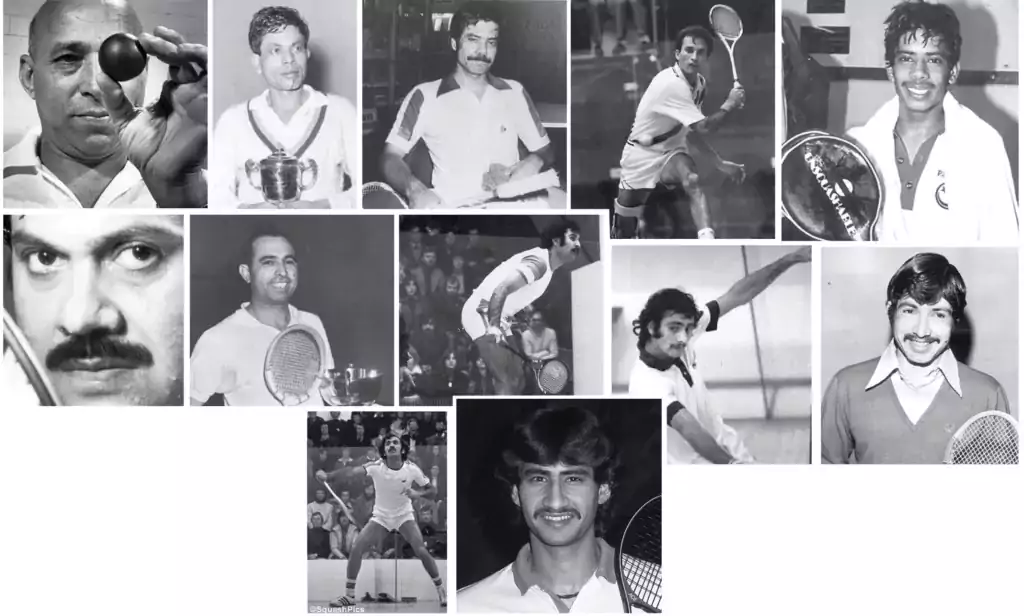 Squash was not simply a passion but a real calling for Huzaifa Ibrahim, who is becoming more skillful than older contenders. This prodigy has already put their skills to the test. His competition, who are in no way mediocre themselves, know his capabilities. Often, in the resignation of defeat standing in front of their eyes, older, taller players, with better reach, throw in intimidation during matches.
"They play rough, try to block me, and push to dominate the T-zone. It is a pressure tactic that often works," said the young crusher.
Huzaifa has got perfect timing on the shots with tremendous power and is aiming for bigger competitions right away. His childhood had groomed him for this eventuality.
It all began with his father, a Pakistan Navy personnel, a sportsman and a squash player. Huzaifa apparently inherited his father, Subhan Ullah's love for sports.
Huzaifa was trained to run almost as soon as he learnt how to walk. By the age of four, his father had already discussed the career of a professional squash player with him. Subhan Ullah decided to pass on his skills and trained his form from a young age. The child adapted to a daily regimen.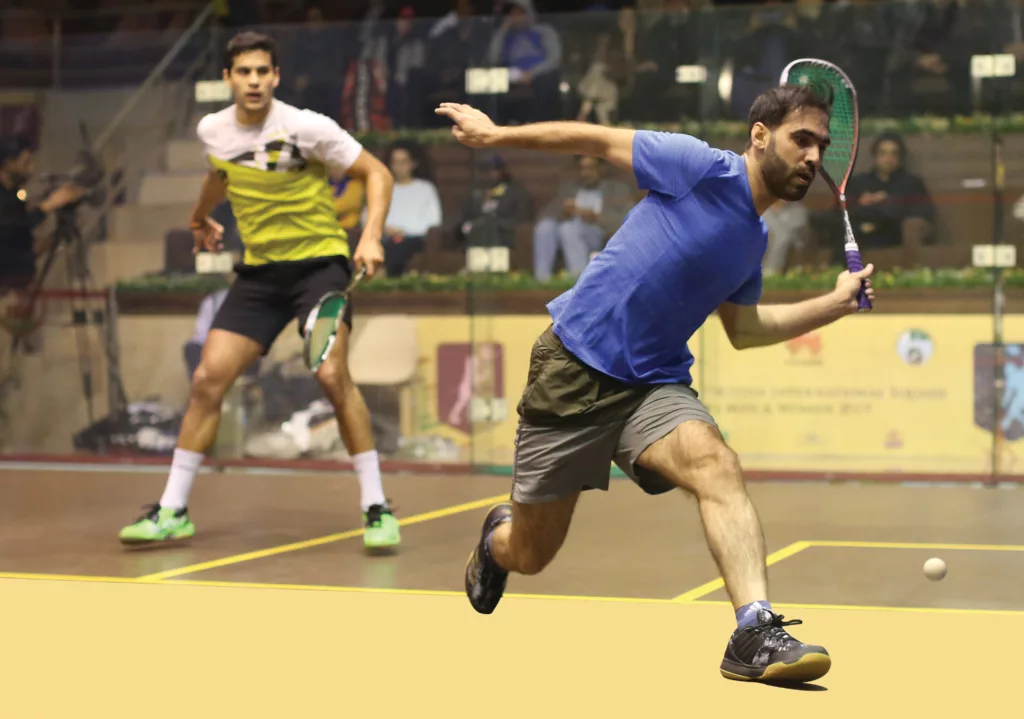 "I knew from the get-go that my son would be a professional sportsman," Subhan Ullah said with pride in his voice.
Professionals claim his style reminds them of trademark features of Pakistani squash legends such as Hashim Khan, Mohibullah Khan Senior and Roshan Khan – strong hits, quick reaction, and a creative approach to attacks.
That's what it takes to be a champion, ruler of the game for two decades during the 1970s and 1980s, Qamar Zaman said. "He is pretty much created out of the same mold as some of the Pakistani squash champions in our history, and they were all about discipline, training, and fitness."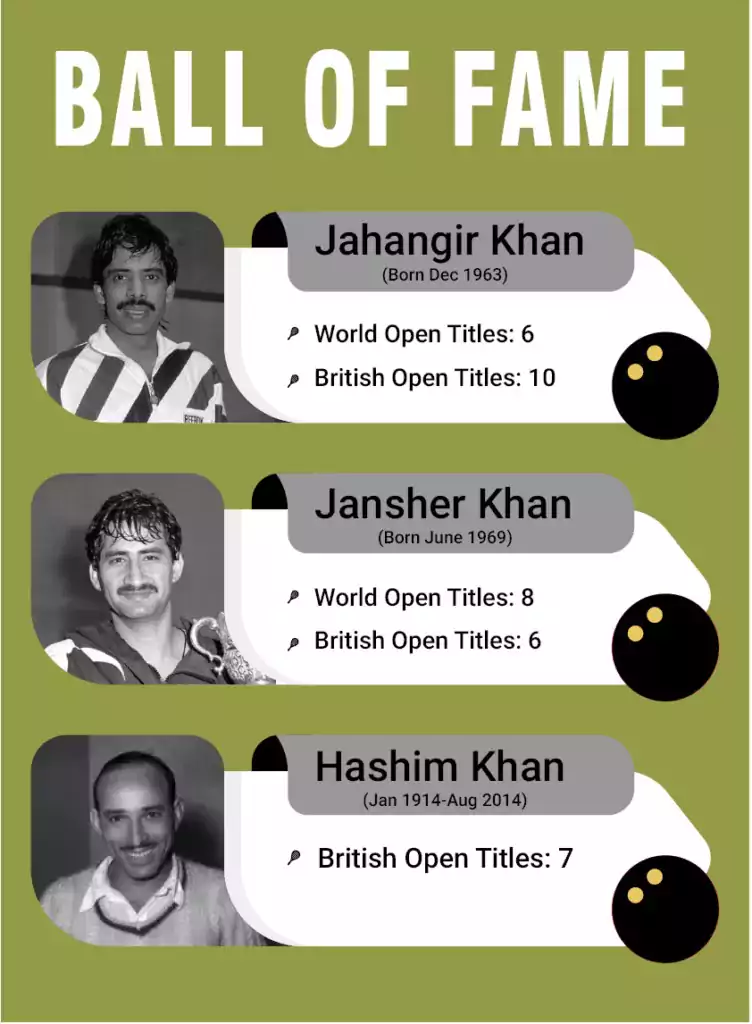 If you do not put in the hours you can forget about winning 99 professional titles like Jansher Khan, the highest by any player in squash and World No 1 for more than ten consecutive years. "Jansher Khan was late when he started out but went on to win the world junior championship for the first time ever in 1986, and won world open title in 1987, before winning the world junior championship title again in 1988," said Squash legend Qamar Zaman. By the time Jansher Khan was 18, he had beaten, arguably the fittest man on the planet and World No 1 Jahangir Khan in the Hong Kong Open. With continuous patronage from Pakistan Air Force, which adopted the sport of squash in the 1970s, Jansher Khan won the British Open six times in a row – 1992 to 1997, and won World Open a record eight times. His retirement brought to end nearly 50 years of domination by Pakistan in squash tournaments.
Today, the Egyptians are killing it in the world of squash. The top 20 players of the world are made up of ten Egyptians, including World No 1. The sheer numbers of their young players dwarfs every other country. A whole new generation of 40, 000 to 50, 000 young squash players, men and women bring their own flair to the sport. Following closely at their heels are Malaysia, which prepares 30, 000 players every year. Compare all that with Pakistan that has less than 1, 000 young squash enthusiasts and even lesser active players – 300 or so. Pakistan has not been able to reclaim its glory days since 1995-96.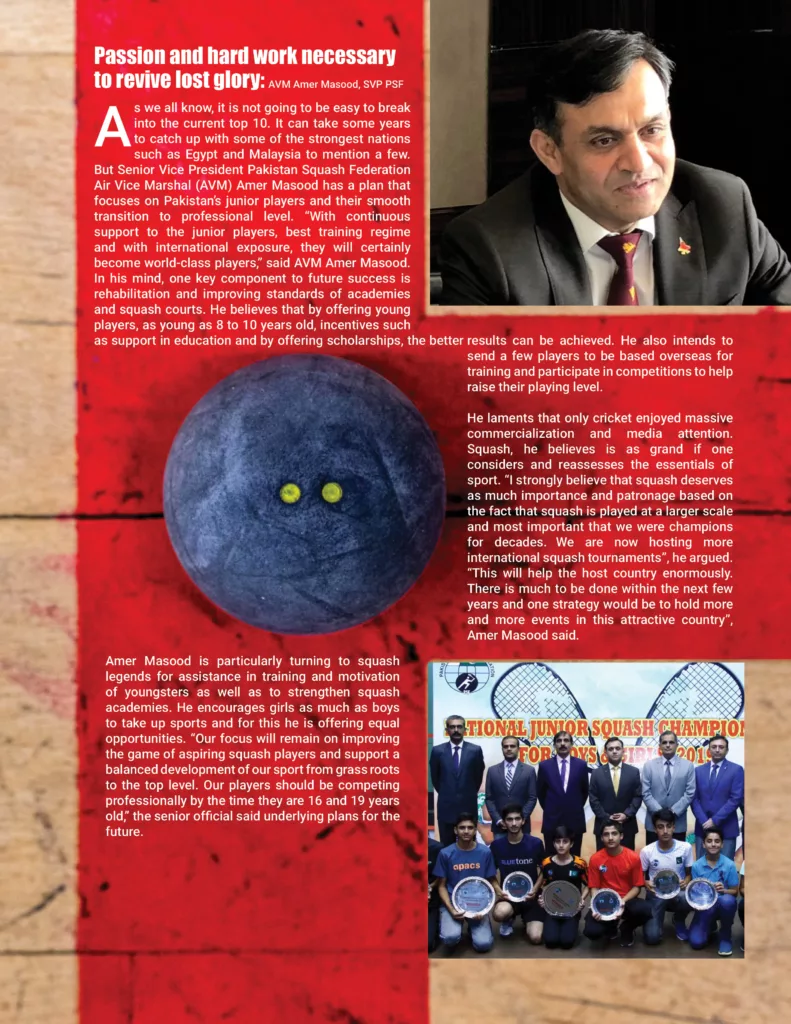 But that is now changing. After March 2018, under the patronage of Air Chief Marshal Mujahid Anwar Khan, young squash players have participated in 20 international junior tournaments and won 81 medals – 36 gold medals in junior championships. In a recent event for juniors, a batch of nine Pakistani players brought back one gold and two bronze medals compared with 112 players from Egypt who could only win seven medals in total. "When we took over in March 2017, we wanted to understand the reasons for our demise in squash. For three months we studied the American model, the British and Australian, and how the Malaysians became better. They all led to the Egyptian model. And the Egyptians were following the Pakistan model," said Secretary Pakistan Squash Federation Gp Capt Tahir Sultan.
The Egyptians studied Pakistani players – their wrist movements, their swing from the point of grip, and drop shots, said Tahir Sultan. "But the most important factor the Egyptians learnt from us and incorporated into their system was the importance of fitness of our player," he emphasized.
As the war on terror started to take shape there was an angry and violent mood lurking over the country. This mood landed on the sport of squash and knocked it flat on its back. The country had a ringside seat to human tragedy, described Secretary PSF Tahir Sultan. "It took us more than a decade to deny oxygen to the perpetual flame of terror. Because of all the violence, the International Squash Federation banned events in Pakistan. Youngsters had nothing to follow," Tahir Sultan lamented.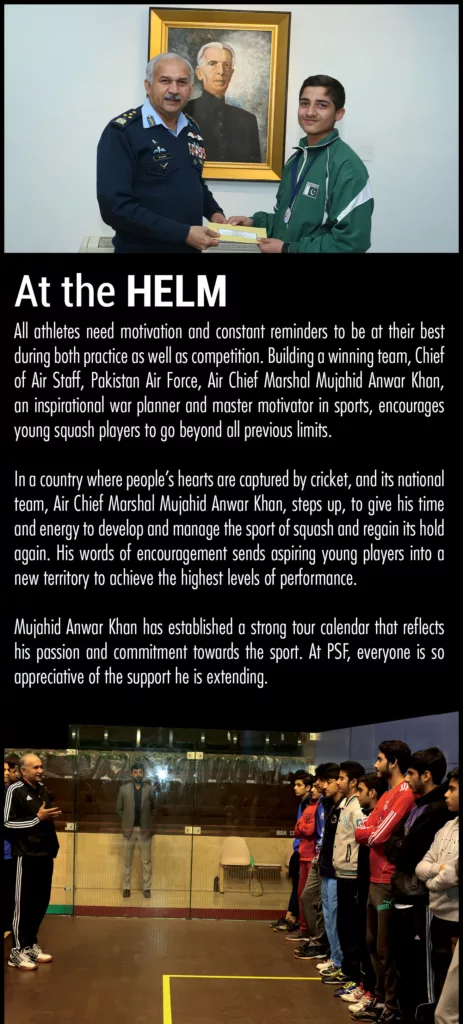 In February 2017, it took five months to convince world bodies that Pakistan was a safe venue to host international tournaments. The previous ban took five years to remove.
"We invited top Egyptian players for competitions against our best. This sent a strong message that Pakistan is serious about reclaiming its position in the world of squash," the senior official said.
The PAF management has rolled out a plan that offers the best facilities, best equipment and the perfect environment to aspiring squash players. It is working towards providing jobs in the air force as well as creating  work opportunities in departments such as WAPDA, Oil and Gas Regulatory Authority (OGRA) etc. Moving forward, the PSF wants to continue these efforts in tandem with scholarships for aspiring players who are trained by coaches to produce pro athletes. With significant support from the Serena Hotels that sponsor international squash competitions in the country, Pakistan Squash Federation will cover every cost incurred in supporting these players.
"Above all we have complete support from President of PSF, Air Chief Marshal Mujahid Anwar Khan, who ensures participation of Pakistani players in maximum international events at home and abroad. That kind of exposure is vital to instill confidence in young players," Tahir Sultan said, optimistic about Pakistan's return to its former glory in this arena. With these efforts, the PSF intends to restore the trust of parents in squash as a promising career choice worthy of their time and effort.
"Once set on a course of action, we can be an unstoppable force and make it back into the top ten world ranking in the next four to five years," he adds.
Former squash champion Qamar Zaman says that Pakistan is lacking in youth that aspire to be champions in squash. "We need squash players that can be sporting equivalents of Jahangir Khan, who by age 17, became the youngest player to ever win the World Championship title. He was unbeaten for six years between 1992 to 1997. During this time he won 555 consecutive matches, the highest winning streak by any player in any game ever."
Since Jahangir Khan's scoring records remain unmatched, Qamar Zaman rallies around young players to develop exemplary work ethics, stringing consistency together, and putting in their 110 percent.
"It means training five to six hours and ripping off that plaster. That is how magic works. Anything less and you'll be breaking my heart," his reverence for the game is evident.
Suddenly the country has a hero and the nation is entranced. At 14, he is already a role model to a new generation of Pakistanis. Growing up idolizing Jahangir Khan and Jansher Khan, Hamza Khan has the same message that the two champions had for aspiring athletes, "If you have a burning ambition and desire, absolutely anything is possible."…