The Sino-Pak mammoth project CPEC which has made global waves, will emerge not only as a strategic pivot but will also open a gateway of opportunities for the Pakistani aviation industry, an integral pillar of which is the Aeronautical City Kamra, Pakistan Air Force.
Acountry's effective aviation industry can help it gain greater socio-economic benefits including; expanding connectivity to the world, greater access to markets and people, increased employment prospects and significant technology transfer opportunities. It also contributes to economic growth in terms of increasing investment, productivity, trade, and tourism. The aviation sector provides more than 60 million jobs globally and is one of the largest collective employers worldwide. In one way or the other, almost all major industrial sectors are dependent on aviation sector.
Aside from a few episodes of slowdown, the global aviation industry has expanded at an exceptional pace. Commercial aviation industry is one of the strongest rising markets on the global scene as air transport has grown by 60% over the last decade. Moreover, the aerospace industry is now considered "strategically important" in many countries as it encompasses defence aviation and space sector and has the potential to reap benefits beyond socio-economic ambit.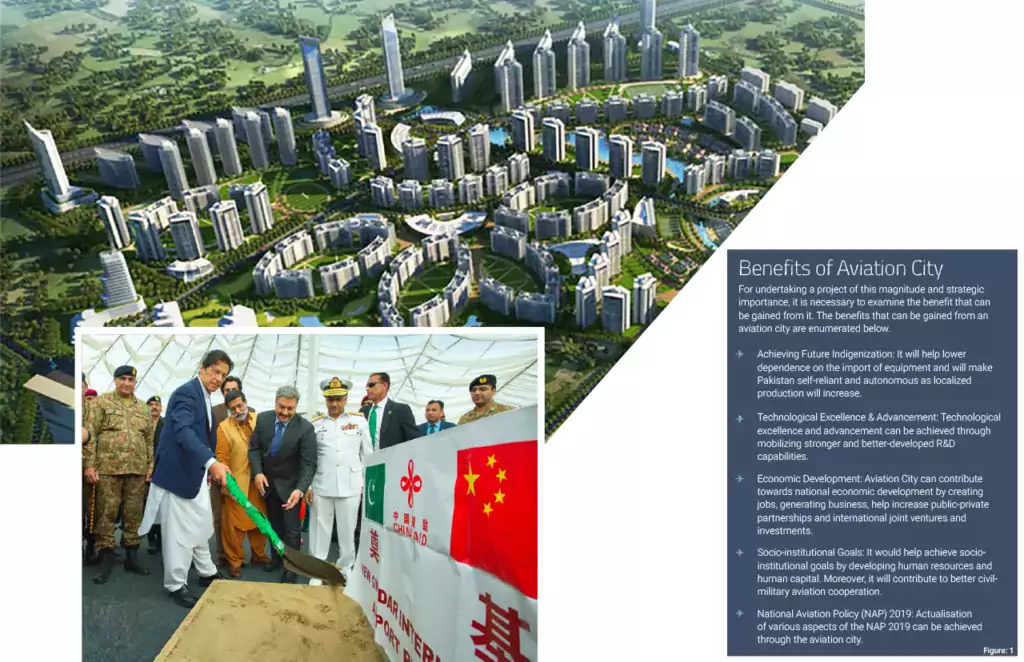 For Pakistan to keep pace with the world community in all domains of aerospace comprehensive planning would be required and a considerable amount of initial investment would have to be made. Nonetheless, alongside many other sectors of the economy, Pakistani aviation industry faces enormous challenges. However, regardless of the continued economic hardships faced by Pakistan, the military aviation industry has grown at an appreciable pace. The origin of military aviation industry in Pakistan can be traced back to the mid-1970s, when Pakistan Aeronautical Complex (PAC) was established at Kamra where overhauling facilities were established for the French and Chinese aircraft of Pakistan Air Force. Over the years, PAC has become a state-of-the-art facility having the capacity to fulfil a large proportion of operational needs of PAF and at the same time has contributed towards economic growth by earning foreign exchange from exports of its products and services.
PAC now forms one of the core elements of national defence and is a growing hub of indigenization and self-reliance for national military aviation. It has the capability of overhauling different fixed and rotary-wing aircraft. Moreover, on the production side, Mushshak aircraft are being independently produced while JF-17 is being co-produced with China. However, on the civil aviation side, the situation is different as PIA(and its technical, services subsidiaries), once considered one of the best in the world, has fallen behind considerably.
PAC Kamra has now attained such expertise and strength that it can promote the growth of aerospace in Pakistan and contribute towards national development, by supporting and facilitating the participation of private sector through capacity building in technological industrialization of commercial & military aviation structure. However, it may face challenges while embarking on this course. The foreseeable challenges can include: the protectionist (and biased)policies of technologically advanced countries which often deny advance technologies to developing countries (transfer of technologiesor'ToT'), the under-active private sector related to aviation, inadequate government encouragement and appropriations for research in the field of aviation and funding shortfalls for development work.
However, the China Pakistan Economic Corridor (CPEC) can be considered an opportunity to overcome these challenges. CPEC is a strategically important project for both Pakistan and China. It is part of China's larger Belt and Road Initiative (BRI) which involves 60 odd countries. Through CPEC, China has agreed to invest US$62 billion over a period of ten years in different developmental and industrial projects in Pakistan. Being an important project of BRI, CPEC can help increase regional and international trade and economic development by closely integrating China, Middle East, Central Asia, South Asia, Africa and other parts of the world; with Pakistan as the pivot. Now in its second phase, CPEC will help jumpstart the economy of Pakistan at a time when severe external economic pressures and stagnating internal economic variables have been combining to hamper overall national growth.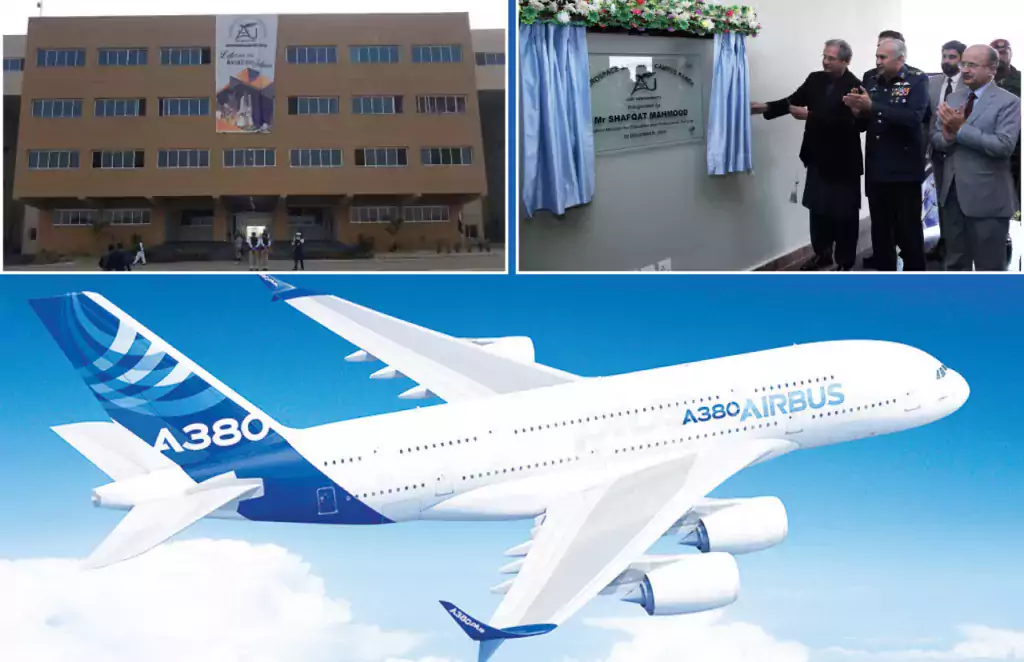 The Long-Term Plan (LTP) of CPEC insists on forming a goal assessment mechanism, described as "an assessment mechanism that shall be established to evaluate the implementation of major projects, assess the progress of the long-term plan in every aspect every five years and then update & adapt the plan accordingly". Aviation projects, such as the Aviation City at Kamra, can therefore, be proposed as one of the initiatives to be incorporated within the CPEC framework. The financial aspects of Aviation City can be analysed in accordance with the LTP, which declares that "China and Pakistan shall jointly prepare plans, divide financing responsibilities based on the project situation and their respective investment and financing strength, give play to their respective comparative advantages in project construction and implementation, and share fruits based on the match of their cost, risk and returns".
The Aviation City can be developed on the model of an "Aerotropolis"or as a special economic zone. An aerotropolisis an urban system wherein the airport, aviation industry, or aerospace sector plays a major part. The concept of aerotropolis has gained attention in the 21st century due to democratization and low-cost civil air traffic. The Centre for Aerospace and Security Studies (CASS) has done important work on aerotropolis. According to this model,the developmental pattern of the 21st century would be to construct commercial and residential clusterswith airports as their centre-point. This approach would not only have economic effects but will also long-lasting sociological metropolitan characteristics. Certain elements of an aerotropolis should be incorporated into the Aviation City project at Kamra.
In an aerotropolis the airport is at the centre of the urban settlement. The residential areas are on the outskirts whereas the inner radius includes transport, industry, hotels, business, offices, R&D and education centres. An Aviation City at Kamra can be developed at a similar design where all these sorts of zones and services would be provided.
Further, it will also include a special economic zone (SEZ). An SEZ is an area designated for economic activities, and certain types economic benefits are conferred to businesses in an SEZ including cheap land and factory buildings for lease; tax reductions and holidays; unrestricted remittance of profits; complete foreign ownership; disciplined low-cost labour; duty-free entry of materials and machinery for producing exports; special customs clearance, and convenient infrastructure and services. Key economic activities taking place in an SEZ include industrial development, services sector, IT and digital services, shipping and transport, logistics, and small-medium enterprises (SMEs). The development of an SEZ will help bolster economic activity at the Aviation City as companies are likely to get significant benefits by investing there.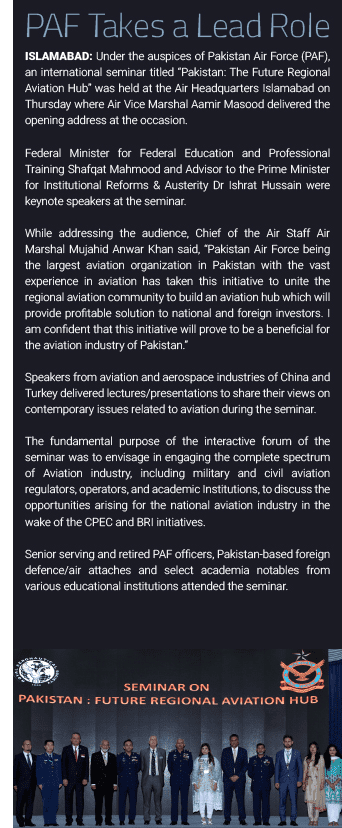 Government of Pakistan has proposed 9 SEZs initially under the auspices of CPEC. These SEZs were announced under the SEZ Act 2012 amended in 2015. For establishing an SEZ at Kamra the SEZ Act should be consulted. Furthermore, a CPEC-SEZ cell has been established by the Board of Investment (BOI) which assists stakeholders regarding the matters of CPEC and SEZs and for formulating the Kamra SEZ this cell should be consulted.
Given the benefits that the Aviation City is expected to produce; (Figure 1)certain challenges might hinder its progress. Some of the challenges that Aviation City might face include strategic and diplomatic difficulties, shortcomings of civil aviation sector, need for adherence to policy requirements and resource constraints that include funding, human resource, spatial and timing constraints, and environmental considerations.If these challenges are over come, then the Aviation City can be a success story.
Furthermore, for the implementation of Aviation City, PAF should focus on advocating the synergies between NAP 2019 and Aviation City as many aspects of the NAP 2019 can be realized through the construction of Aviation City. Moreover, input from other stakeholders, both government and private would be important because one of the goals of Aviation City is to assist and promote the civil aviation sector. Agreements should be signed with entities that would be investing in relevant industries at Aviation City.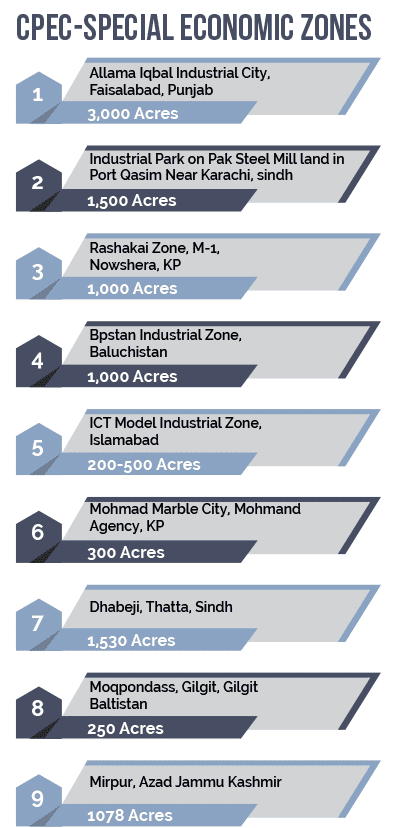 A master design plan should be made for the Aviation City project, as without a design plan its implementation would not be possible. Consultants and specialists in urban planning, architecture, engineering, and the environment may be engaged. Moreover, the importance of research cannot be ignored in an aviation city. A campus of Air University is under construction at Kamra, which will offer relevant programs according to the requirements of Aviation City. Research labs may be constructed for R&D at the Aviation City as well. Manufacturing is already being carried out at PAC to meet the requirements of PAF. PAC's product range needs to be diversified to include commercial items which can be sent to the market; it can be a source of revenue generation for PAC. Once operational, the Aviation City will significantly contribute towards economic uplift of Pakistan.
At present, projects connected to all multinational economic activities across the world have come to a sudden halt with no exact commencement time in sight, CPEC not being an exception. Current outbreak of Covid-19 as a pandemic, is posing serious challenges to the ongoing economic and development projects all across the globe. Despite the fact that situation in Pakistan is under control,economic and social uncertainties caused by the pandemic, especially lockdown(s) across the country, have been increasing. With China being epicentre of Covid-19, the game changer project of CPEC is also being affected by the Covid-19. Before the outbreak, many of Chinese workers and engineers working on different projects of CPEC travelled back to China to celebrate New Year; but due to the worsening situation and lock down, these Chinese engineers, experts and management people could not return to Pakistan. The pace of work on the Aviation City project has also stalled because of the absence of experts and halt of work on the construction sites due to lockdown. Hopefully the current lockdown in Pakistan may be causing delays in projects but this is a temporary situation. Now that the Government of Pakistan has eased the lock down, allowing industries to reopen, situation shall progressively get back to normal, albeit slowly. Since CPEC is a long term project, it would be able to adapt to the changed environment over time.