Set in rural Sindh, the Rashidabad Complex is an oasis, both in the literal and metaphorical sense. Just as it is a scenic sanctuary in an unforgiving land, it is ray of hope for individuals who have not been dealt a fortunate hand. Set amongst flourishing mango coppices, the entrance to Rashidabad is like walking through a portal to a serene, content world. The sight that awaits you is even more beautiful and equally inspiring. One sees throngs of playing, joy-filled children and content, helpful adults, all united in their pursuit of betterment of their little world and lives. The magnitude and scale of Rashidabad is truly an entity one needs to see to believe.
It was the night of 13th December, 1971. The air in the underground Ops room at PAF Masroor was heavy, to say the least. Grief seeped from the walls of Masroor air base, draping the young pilots and navigators present in the room. Everyone in the room could feel it. The tangible, gaping absence of their comrades and brothers in arms. Comrades who they had laughed with, had broken bread with. It was a heavy night, and the winds howling outside seemed to be a manifestation of their stifled sorrow. Earlier in the day, the No 7 Squadron, equipped with mighty B-57 Bombers, had flown to various IAF bases to take down enemy assets. The warriors, as expected, had dealt significant damage to the enemy. But it came at a cost. 6 out of 12 aircrew members were lost in the foray, giving their lives to make the sortie count.
Flt Lt Shabbir Khan was amongst the first to know of the tragedy. The 6 martyrs were from his squadron. He now sat with his colleagues, staring at the cup of tea in his hands, mulling over a tiny exchange he had had with his Flt Cdr (Flight Commander) in the Ops room. Before his comrades had flown out to bomb Indian targets, he had taken a 5 rupee note from his Flt Cdr's wallet to give to a helper, who needed medicine for his son. When he had tried to return the wallet to the Flt Cdr, he refused, saying "I'm flying out. If I come back, I'll take it. If I don't, use it for something good."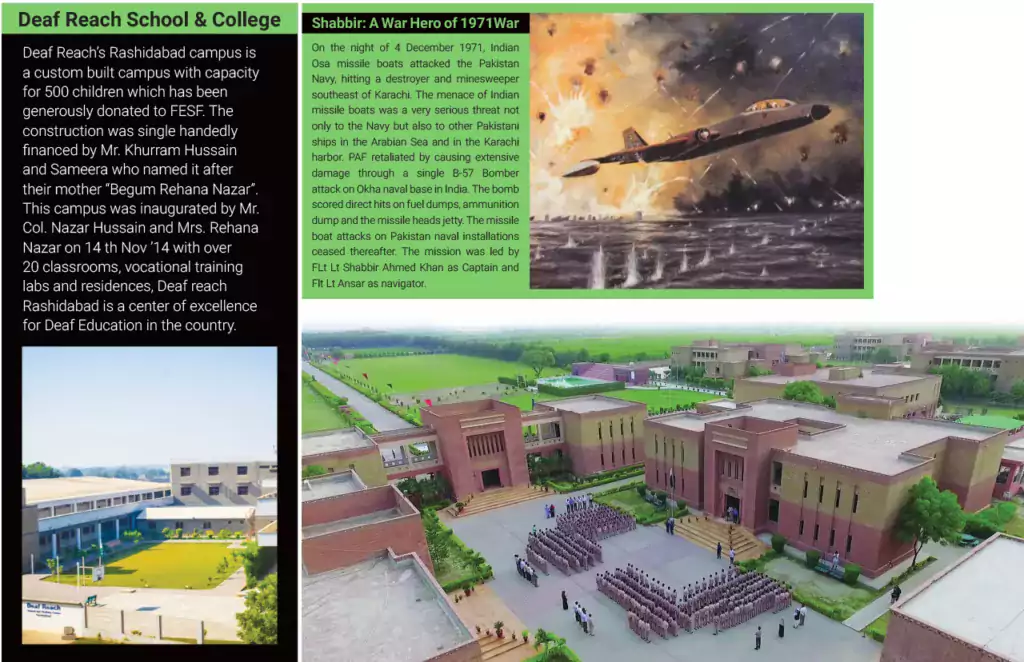 These words, which had seemed idle before the martyrdom of his colleagues, now seemed to lay bare the fleeting nature of a pilot's life to Flt Lt Shabbir Khan. He realized that his life and the lives of his colleagues were so evanescent in the material sense that it made no sense to cling on to worldly possessions. He, along with the others present in the room, were about to fly out on another mission. The B-57s were being loaded with the payloads and the equipment checks were being carried out on the tarmac outside. On top of the grief of their fallen brothers, he and his comrades knew that there was a very solid possibility that they wouldn't be coming back alive from their mission. However, there was no fear in the Ops room and no remorse, just a grim acknowledgment of an undeniable truth. Rather than be intimidated by the notion, Flt Lt Shabbir Khan decided to take advantage of it.
"Only 6 or 7 returned…this is how fleeting life is. We don't know whose turn is it next. Maybe all of ours." Flt Lt Shabbir Khan words echoed in the silent room.
"These material things aren't for us. We don't need them. Let's leave the perishables behind for people who deserve them more than us." Flt Lt Shabbir Khan's words touched the souls of his comrades. There was no denying the good sense of it. They needed little persuasion, being compassionate men themselves. They all gave graciously and the total amount that was gathered that night was Rs 2970/-. And, that was the genesis of Rashidabad, in true sense. Even today, if you go through National Bank Masroor's old, manual records, you will come across an account titled 'Shaheed Welfare Fund'. This is how it all started.
Humble Beginnings
The war was over but not the passion to do something for the betterment of the nation. The spirit which took root in the underground ops room continued to prosper every day. The initiative took off rapidly. Air Cdre Shabbir Khan was known for his character and was immensely charismatic. Initially, the charity was used to give money to the deserving. Then, it was used to help people erect small business or buy assets that would make them self-sufficient, like sewing machines, cycles, carts, poultry and the like. When Air Cdre Shabbir Khan was transferred to other bases, he took the idea with him. "Flying the B-57 bomber, I along with my navigator Flt Lt Ali used to fly extensively over every nook and corner of Pakistan. During flying we use to pinpoint locations to select a site for setting up educational institutes. This practice helped us a lot and continued for some time", Air Cdre Shabbir reminisces.
Fast forward to 90s, the dream started to come to life. Air Cdre Shabbir became the Base Commander of PAF Base Faisal at Karachi and thus started the chain of events which finally gave birth to Rashidabad.
Air Cdre Shabbir and his passionate colleagues knew that they had to elevate society at a grassroots level. Education was the first and obvious contender. They were also aware that educating a rural population was much more complicated than constructing a school. For a good school, the vital ingredients are good teachers. These teachers would need accommodation, healthcare and other facilities. Air Cdre Shabbir Khan and his partners also wanted an orphanage, a school for the differently abled and other institutions. Such ambitious plans required an ample expanse of land, which required an ample amount of capital. Similarly, if you open up a hospital, you not only need doctors but also their accommodation, schools/ day cares for their children and other allied facilities. This all led them to finalize the idea of developing an entire city with all required facilities, deep within rural areas of Sindh where people needed it most.
Air Cdre Shabbir along-with 16 passionate course mates decided to commute their pensions to open up a fund for this noble cause. They didn't have deep pockets but their hearts were rich enough. They collected around 25 million rupees, instituted a fund and bought around 100 acres of land near Hyderabad Sind for the development of new city. "For initial three to four years we were inhaling dust and nothing much, no end in sight. It is Mission Impossible, many argued, but we remain committed and had full faith in Allah Almighty."
And then, divine help started to pour in. Organizations, wealthy people and govt/ non-governmental organizations started to collaborate in this noble cause. Then on, there was no turning back.
Rashidabad It Is
Such an ambitious project required a worthy name that would encompass the true compassionate spirit of the endeavor. "I always wanted to name the city after any of the great PAF Shaheed in the likes of Rafiqui, Yunus, Iqbal…as they were our true heroes and role models", reminisces Air Cdre Shabbir. However, fate had something else in store.
What a coincidence. The day is 13th December, 1997, again, exactly 26 years after the Jamnagar attack during 1971 war. A young and energetic Flt Lt took off from Masroor air base along with his comrades to fly to Sonmiani Range, on a routine operational training mission. Just after take off, the fire warning light comes 'On'. It is every pilot's worst nightmare. The engine had caught on fire. The pilot FLt Lt Rashid, call sign Red 4, declares the emergency situation to the leader of the formation and authorities on ground, who in turn asks him to eject immediately. Red 4, without a moment's hesitation, refused outright. He knew he was flying over densely populated areas of Karachi. He was well-aware that hundred of civilians on ground would die if he ejects from the aircraft, now.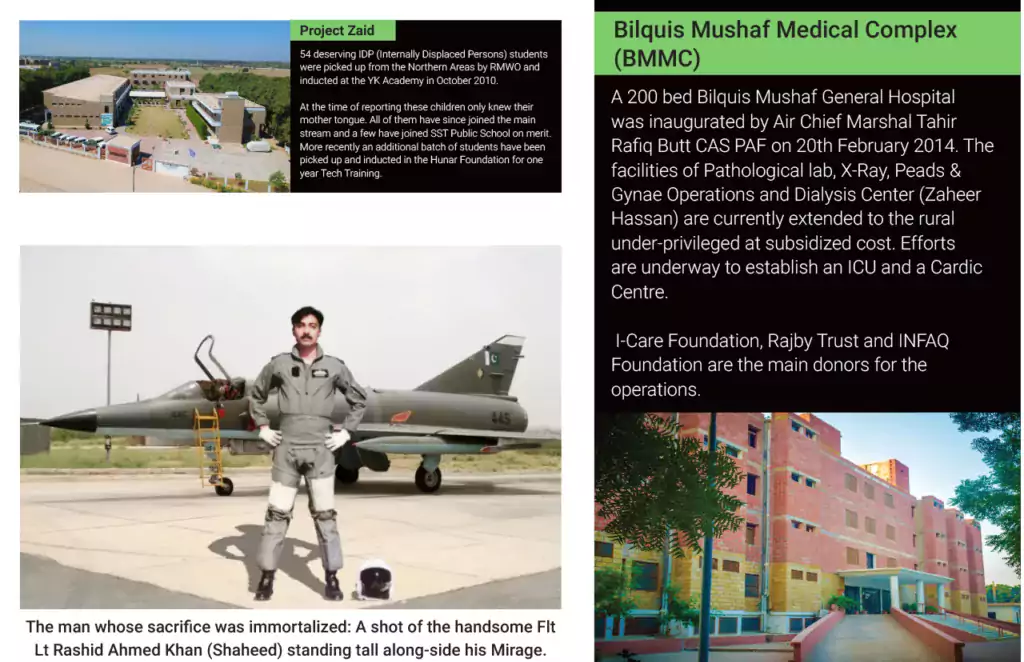 Red 4: 'Unable to eject! Over population!'
Leader: 'EJECT!'
Red 4: 'I have hydraulic lights on.'
Leader: 'EJECT, EJECT, EJECT!'
Red 4: 'Smoke in the cockpit!…….'
Those were the brave pilot's last words before he crashed his jet in an unpopulated area, saving hundreds of lives while giving up his own. It was not a spur of the moment decision. Just a day before the Flt Lt had made the promise to his comrades that if he was ever in such a predicament, he would gladly lay down his life to save others. He knew exactly what he was doing.
This fearless pilot was Flt Lt Rashid Ahmed Khan, the only son of Air Cdre Shabbir Ahmed Khan. "I had been granted what I had prayed for, all those years ago." Says Air Cdre Shabbir Khan, his eyes moist but a judicious smile lingering on his face. "I was out of the country when it happened. The project was already planned by my colleagues. I came back and my relatives received me at the airport. While everybody met me with weeping faces, there was one colleague who met me with a content expression.
"Shabbir, you have asked me to find a name for the project which I was unable to pick thus far. I have now found a suitable name. It should be named 'Rashidabad."
Air Cdre Shabbir Khan's family legacy doesn't end there, however. Shabbir Khan has a grandson who was recently joined the PAF following the legacy of his family. His name, as you've probably already guessed it by now, is once again, Rashid.
Rashidabad
Rashidabad complex is Air Cdre Shabbir A. Khan personified. It a welfare city in the true sense of the term. It is a welfare project so vast and diversified in scale, it is almost unbelievable. However, despite its size, the establishment is immaculately managed by Rashid Memorial Welfare Organization (RMWO). Rashidabad is a multi-dimensional welfare project. Spread over a vast 114 acres, Rashidabad has grown to be a Shangri La of sorts for the deserving. The compound caters to 4 broad categories, which can be classified as Education, Healthcare, Socio-economic and Environment.
Quality education for all is Rashidabad's core competency. It has multiple diversified educational facilities run by PAF and several welfare organizations which cater to different areas and expertise. PAF's Sargodhian Spirit Trust set up one of the first school of Rashidabad in 2005. Residing in an imposing yet well-designed red brick building, the SST campus is home to high-spirited students from all over the nation. "We started with just 73 students." Air Cdre Shabbir reminiscences, "Thousands of students of IGCSE and A-Levels have passed out since then. The project is being run by PAF's Old Boys Association Sargodha and they are doing a wonderful job." Another day school is the Yaqub Khawaja Academy. Built right beside a serene lake, the academy can cater up to a thousand deserving students, most of whom are provided with free uniforms, books and transportation.
The Rubab Kassam Campus of TCF (The Citizens Foundation) in Rashidabad can accommodate more than 1500 students at any given time. Owing to the overwhelming number of students, the facility now accommodates 2 shifts. The gender ratio is 60% girls and 40% boys, a much-needed percentage to battle the deficit in female education.
Another faction of PAF not be left behind in humanitarian efforts is the TST (Topian Spirit Trust), a trust formed by the alumni of old students of prestigious PAF School Lowertopa at Murree. TST has erected an educational facility in Rashidabad. Walking within its walls, one cannot help but be impressed by its well-planned layout and the facilities it offers. Featuring libraries, an auditorium, cafeterias, a museum, digital learning labs and an open-air atrium beside the usual academic wings, the complex is very much on its way to produce exceptional students.
Since Rashidabad is holistic welfare project, it also has extensive facilities for differently abled people. The two main institutions which carry this noble duty is Deaf Reach School and College and Sultan Ali Campus for the visually impaired. Deaf Reach is a program of FESF and teaches deaf individuals applicable skills through its well-equipped classrooms, vocational labs and classrooms. The Deaf Reach campus was donated by Mr. Khurram Hussain and Sameera who named it after their mother "Begum Rehana Nazir', who also had the honor of inaugurating the facility. The visually impaired are looked after in Sultan Ali Campus for the Visually impaired. With a capacity of 300 students and a housing capacity of 100 students of both genders, the facility has proven itself to be a God-sent for visually impaired individuals.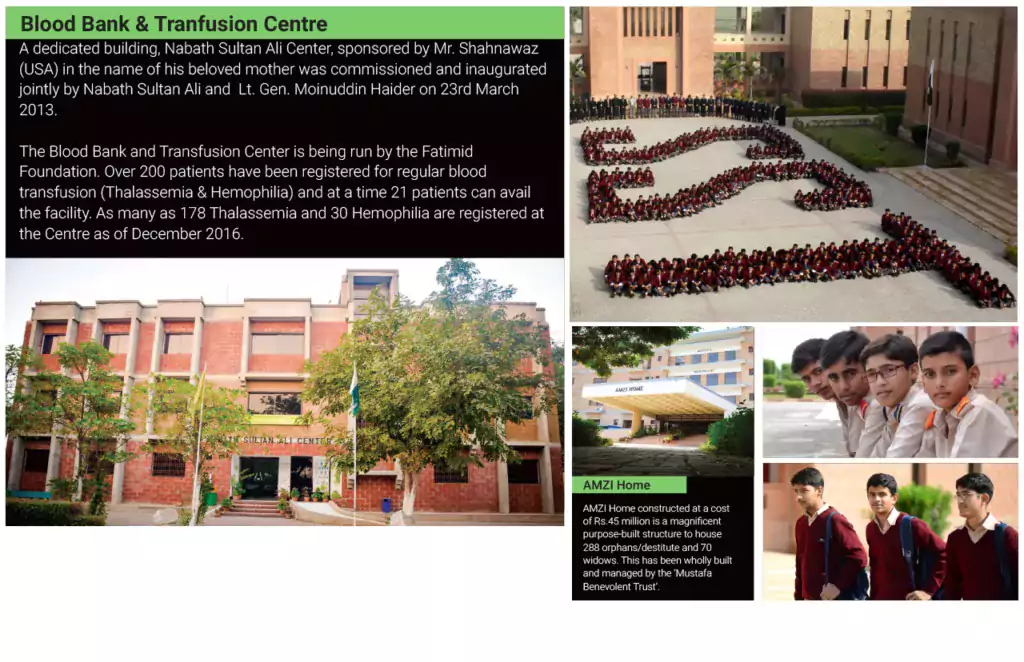 Specialized education is also provided in the expansive Hajiani Ashraf Khatoon Technical Institute, run by The Hunar Foundation. The campus is affiliated with City & Guilds – UK and offers courses in General Electric, Mechanics, Plumbing, Welding, Air Conditioning and several other disciplines. Another vocational training program is offered by DMKM Vocational Training Center for women, which has been set up in the basement of the Khawaja Yaqub Academy.
RMWO has also extended its helping hands to surrounding villages. Suffah Literacy program, run by Mustafa Benevolent Trust and NEDians Social Welfare Trust, provides free books to students of schools in nearby villages. Another ambitious outreach project is 'Fatima Literacy' program for children who can't attend school, providing them an alternative in the basement of Masjid-e-Shahbazi, Rashidabad's resident mosque.
After devastating floods of 2010, 54 marginalized IDPs were picked up from Northern Areas and enrolled into YK Academy as a part of an initiative termed 'Project Zaid'. Confused and desolated, the children could only speak their mother tongues when they arrived from their ruined lives. But with gradual and focused attention, the children came out of their shells, eventually being enrolled into SST and TCF Schools. They're now well on their way to becoming happy, well-adjusted members of society.
Health
Rashidabad has multiple medical facilities which provide holistic and competent health coverage to the underprivileged. From expansive, well-equipped hospitals to mobile van clinics that travel to the patients' doorsteps, Rashidabad strives to ensure that healthcare is available to all who need it.
With an impressive capacity of 200 beds, Bilquis Mushaf General Hospital houses departments for pathology, radiology, pediatrics, gynecology, a dialysis center, an ICU and a cardiology center. Competent doctors and healthcare staff have been brought over from all over the country to provide the best care to the patients. BMMC has been made possible with the donations from i-Care Foundation, Rajby Trust and INFAQ Foundation.
Another facility that proved itself a blessing for the locals is the LRBT Free Eye Hospital. Constructed by RMWO and handed over to LRBT for operations, the hospital has a capacity of 50 beds. The hospital treats hundreds of patients daily, which includes surgeries, as well. Rashidabad also boasts a Blood Bank and Transfusion Centre run by Fatmid Foundation. The facility treats a substantial number of thalassemia and hemophilia patients.
In addition to these physical hospitals and facilities, RMWO has come up with another ingenious way to provide healthcare to the deprived. 4 mobile van clinics can be seen zooming about in a 15 kms radius of Rashidabad. Carrying a doctor/dispenser and equipped to prescribe and donate medicines for all common ailments, the mobile clinics treat 15 to 30 patients each, every single day.
Socio Economic
RMWO's welfare efforts are, at times, the only hope for some individuals. Rashidabad has projects that helps the underprivileged not only survive, but it aids them in getting back up on their feet and live normal lives. Spanning from free meals, clean water to an orphanage and seniors home, Rashidabad is a sanctuary that welcomes all.
The perfect manifestation of this concept is the Amzi Home. Built and managed by Mustafa Benevolent Trust (MBT), Amzi Home is a safe haven for orphans, the destitute and widows. Elevators make every floor accessible to the elderly. The children grow up in the care of dedicated foster mothers. The pleas of laughter from children and the content expressions of the adults is the highest testament to the quality of life that Rashidabad provides.
Rashidabad also welcomes differently abled children with its Rajab Ali Kulsoom Bai Dar-ul-Sukoon facility. Physically and mentally challenged children have little or no consideration in rural Sindh and that is exactly why such a facility was so direly needed. Rajab Ali Kulsoom Bai has the capacity to hold 250 differently abled children. The facility also boasts the ability to house 100 senior citizens within its walls.
Rashidabad also boasts an Islamic center set up in a mosque that can host a staggering 4000 namazis at any given time, with a space reserved exclusively for women. Other projects include a kitchen which provides subsidized meals for patients and their attendants, laborers and anybody else who requires it and a microfinance network which provides small loans to deserving people. Named 'Batool Shah Microfinance', the project has already doled out millions to thousands of beneficiaries.
Life in Rashidabad
Air Cdre Shabbir Ahmed Khan had the insightful foresight to know that in order to make people reside in Rashidabad, it had to be an oasis smack middle of the Rural Sindh. "We knew that we needed competent workers. And competent workers deserve a good environment. Its not easy living out here." Contemplates Air Cdre Shabbir Khan "We had to design a place that would be a pleasure to live in."
'A pleasure to live in' would be an apt description for Rashidabad. Covered in mango orchards, lush green gardens immaculately maintained and efficient maintenance systems, the welfare city is a near-perfect blend of nature and man-made structures.
Rashidabad has 17 bungalows and several apartment complexes for each of the facilities. The apartments have beautiful views and are well-furnished. Rashidabad is supplied water by Amzi filtration plant, which uses reverse osmosis filtration to provide Rashidabad with fresh drinking water. The residents have an ample arsenal of activities to entertain themselves with. You can see people engaged in squash matches in Rehana Nazar Squash Complex, which hosts junior squash championships every year. Then, there's the ANJ Community Center, which has people having relaxed billiards sessions, intense table tennis matches or contemplative chess sessions. All sorts of consumables can be bought at the General Store. Then, there's the beautiful lake in the middle, which gives the entire complex a magical aura. Walking besides it in the night, with a calm, soothing wind on one's skin is a feeling that remains unmatched. Access to cities has been made easy by various subsidized transportation services. To top it off, Rashidabad boasts its own Railway Junction which connects it to the rest of Pakistan.
The Future
It is said that like a pebble thrown into a pond, a good deed can create ripples that extend far beyond the initial splash. The same can be said of Rashidabad and Air Cdre Shabbir Khan.
"The collaboration of RMWO and PAF has proved itself to be so successful that it has been decided that the endeavor shall be replicated throughout the country." Air Cdre Shabbir Khan informs us with pride "2 projects that are making significant progress are Alamabad and Yunusabad. And this is just the start."
The first project that is underway is Yunusabad. Located on Samungli Road, Quetta, the complex sprawls over a whopping 100 acres of land. The project has been named Yunusabad to honor the first shaheed of 65 war, Flt Lt Yunus Hussain, SJ.  Located near Swabi Interchange, Alamabad is the second project. It has been named after the legendary fighter pilot of PAF, Air Commodore M M Alam (late). The project has had a jump start by a donation of 1000 kanals of land by the locals. PAF in collaboration with other organizations is make all efforts to complete this mega project in time.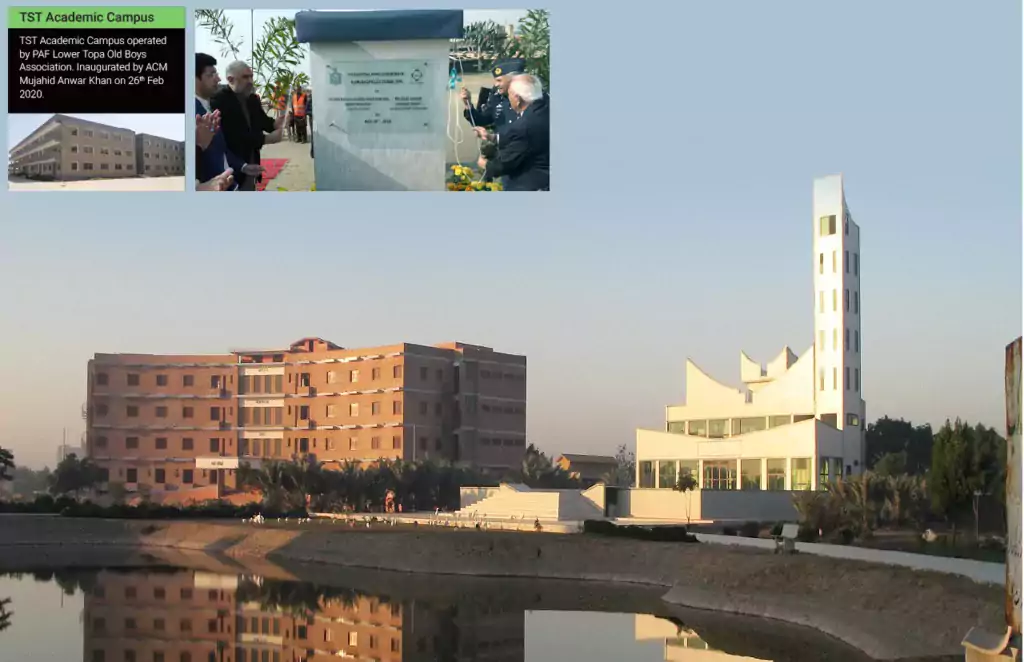 Another project that RMWO is a part of is the Tehsil Headquarters Hospital, Fort Munro. In an agreement signed the Punjab Primary & Secondary Healthcare Department and the Pakistan Air Force, the PAF has been given administrative control of the hospital. PAF, in turn, has brought in RMWO and Air Cdre Shabbir Khan to design and implement the infrastructure of the hospital. Earlier, under an MoU between the PAF and the School Education Department, PAF agreed to set up a cadet college over 100 acres at Fort Munro. The Punjab government will also contribute Rs1 billion to the project.
If one mulls over the tale of Rashidabad and its upcoming siblings, one can't help being awed by the trajectory of events that led to the creation of something so magnificent. The ultimate sacrifice of Rashid proved to be a butterfly effect of sorts that engulfed Air Cdre Shabbir Khan, his family and then hundreds of individuals in its wake. It is a perfect example of how resilient the human spirit is and how we can transform a tragedy into something eternally remarkable and inspiring.